How to get to Cat Ba Island from Hanoi
How to get to Cat Ba Island from Hanoi? Well, you can go by motorbike if you are an adventurous backpacker, or you can take the bus with a tourism company like Cat Ba Express if you want a hustle-free trip, just chill and have a good chat with other people.
How to get to Cat Ba Island from Hanoi?
Cat Ba Island is an fascinating place, but sometimes overcrowded by visitors, and there are 2 ways to go there the easiest.
You can go to Ha Long City and from Tuan Chau Island you need to take a ferry to Cat Ba Island or you can go to Hai Phong and here you can take a speedboat. NEW – from August/September 2017 it is possible to travel by a direct bus from Hanoi.
Get to Cat Ba by On Motorbike / Private Car
If you go by motorbike, go down to the highway 5 (Quốc Lộ 5) to get to Hai Phong city (105 km – 3 hours). If you go by car, follow highway 5B (Quốc lộ 5B).
The way is longer but there's no traffic since only cars can access.
Route for motorbikes
Route for car
From mainland in Hai Phong city, you have several options to get to the island
Option 1: You can take speedboat from Binh ferry terminal and go directly to Cat Ba Island (~250,000 VND – 60 mins). It's fast but quite expensive.
(Picture of speedboat)
Timeline of Binh speed boat
| | |
| --- | --- |
| Binh to Cat Ba | Cat Ba to Binh |
| 09h00 | 10h00 |
| 13h00 | 14h00 |
Option 2: Or you can go to the flyover called Tan Vu – Lach Huyen that connect the mainland to Cat Hai Island.
There's a parking lot at the Got ferry terminal where you can park your motorbike or car.
Or not, if you want, you can absolutely bring your bike/car with you to the island with some extra fee.
Touring the amazing road on Cat Ba island with your bike. In total, it will take you around 5 hours to get to the center of Cat Ba Island.
Got Ferry price
| | |
| --- | --- |
| Ticket type | Price |
| Traveler | 12,000 VND / person |
| Motorbike | 45,000 VND / bike |
| Under-9-seat car | 190,000 VND / car |
| 9-to-24-seat car | 210,000 VND / car |
| 24-to-32-seat car | 240,000 VND / car |
| Over-32-seat car | 330,000 VND / car |
Then from Got ferry terminal in this island, you take ferry (12,000 VND – every 30 minutes from 4 AM to 11 PM - duration: 30 mins) or speedboat (80,000 VND – duration: 8 mins) to Cat Ba Island. Depends of what means you choose, you will arrive in different places in Cat Ba Island.
Get to Cat Ba island from Hanoi by bus
If you decide not to trouble yourself with motorbike, and the heat and the traffic, you name it, then book a bus ticket which is magically inculde speedboat from mainland to the island with 14 USD, then chill. You'll get to the center town after 3 hours 30 minutes.
Book a bus to Cat Ba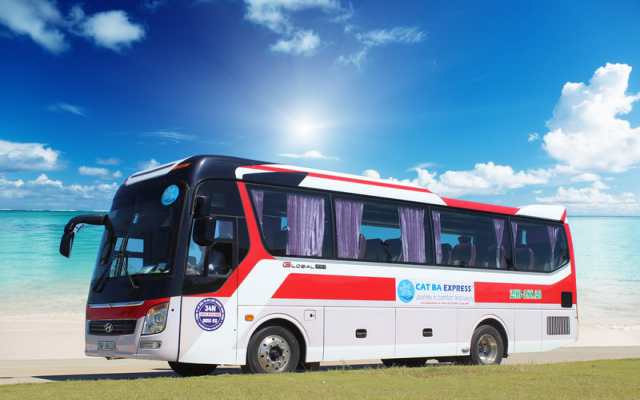 Speedboat from Hai Phong goes directly to the southern part of the Cat Ba Island, to the town of Cat Ba.
There are many hotels or homestays in the southern part of this island. A direct bus from Hanoi to Cat Ba Island or a speedboat/ferry from Hai Phong to the town of Cat Ba is the best and fastest way how to reach Cat Ba Island. Book and buy your bus+ferry tickets online – recommended.

Book your bus to Cat Ba Island with Cat Ba Express to ensure your comfort for the whole trip here.
​

How to book?
Book online

here

. We will confirm your booking immediately
Book in our office at No. 106 Tran Nhat Duat, Hoan Kiem, Hanoi.
Call our hotline to book: +84 84 824 4999 (Whatsapp is available)
Send your request to: info@catbaexpress.com
Read more →