12 Things to do in Cat Ba Island
Cat Ba is the most illustrious island in Hai Phong, contained by the emerald green water of Lan Ha Bay.
The island is bound by beautiful beaches and quaint fishing villages; exuding a unique sense of quietude, juxtaposed to the bustling shopping streets.
One must only travel a small distance to reach awe-inspiring caves boasting historical and cultural significance.
Book a bus & tour
There is no shortage of activities amidst the island that caters for all. Whether your interests are in gastronomy, adventuring, shopping, history, and culture, or simply relaxing, all will be catered for or unexpectedly received.
As the summer season sets in, immerse yourself in the cool water and float within the calming roll of the ocean at one of the islands few hidden beaches.
If you are part of a large group, staffed boats can be hired for 300,000-500,000 VND for 6 people.
The operators will transport you to one of the Archipelago's secluded and uninhabited islands.
For those more adventurous individuals, kayaks can be rented from either Quang Anh's or Xuan Hong's boathouse for around 200,000 VND per day.
This option gives you the liberty to explore the many coral reefs and indulges in marine life.
If you prefer a livelier scene, the infamous beaches of Cat Co 1, Cat Co 2, Cat Co 3 adjacent to the city center are the most popular options.
People amass slowly throughout the day, be it tourists or locals, everyone enjoys these iconic beaches.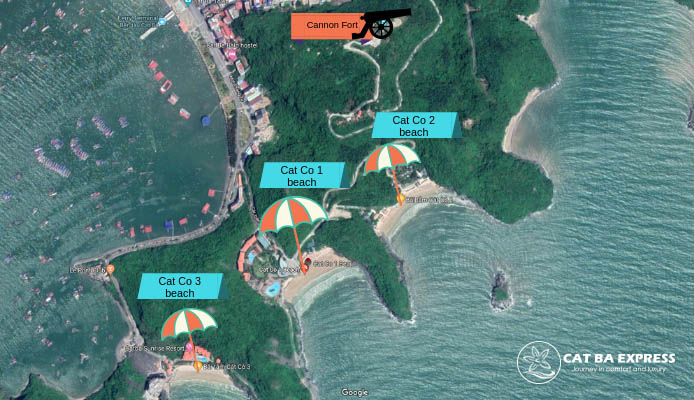 The largest floating village in Vietnam (Cai Beo) can be accessed via the Cai Beo port.
The floating houseboats and inviting smiles of local villagers will be an everlasting memento.
The local might invite you to visit their houses or mingle with you to experience the unique way of life here.
You should visit the mountain village of Viet Hai and do your very own walking tour around.
Here you will learn about the local lifestyle and the surrounding, bringing in more meaning and appreciation to what you experience in Cat Ba.
There are three ways to enter the village: Doing kayak, using boat or trekking throughout the National Park.
Once belonging to Ha Long Bay, Lan Ha Bay was named an independent Archipelago in an effort to maintain the natural biodiversity.
It is quite a surreal experience to cruise amongst the ageless cliffs and let your eyes explore the picturesque horizon.
If you travel as a group (including children and seniors), the best way is to book a tour around the bay for the whole group – swimming at Monkey island usually included. However, this option does bare considerably higher cost at around 1.1-1.3 million VND.
Kayaking is one of the must-do activities when you visit Cat Ba. Due to the sheltered nature of the bay, the water remains calm and effortless to glide atop.
Take the time to relax and refuel after kayaking at one of the remote beaches.
You can continue your journey to fishing villages and dive to see coral reefs with snorkels (inexpensive) or an oxygen tank (1-1.5 million/person.)
Note: You can choose either to rent a kayak or book a one-day tour of kayaking and diving with an oxygen tank.
Renting a kayak is more suitable for those who fancy aimless exploration or searching for hidden gems.
Booking a tour on the other hand, can take you to the most famous and beautiful spots in the bay as a base for sightseeing and kayaking.
In addition to diving, lunch is provided for the price of 390,000 VND.
Monkey island is nearby to Cat Ba and is one of the most visited islands in the area.
The island has been divided into two sections, on the one side a resort and the other a beach for the populous.
You may also choose to visit the observatories that overlook the bay, a popular photography destination with continuously changing beauty.
Monkey island is accessible via boat or kayak.
Sunsets are always a mystical experience worth admiration, and nothing short of this can be found at Cannon Fort.
Watch the sun as it descends into the ocean, illuminating the scattered islands in an electrifying light.
This ecological sanctuary is home to abundance of diverse flora and fauna, along with one of the most endangered species of Monkey (Long-haired Macaque).
This is a chance for you to immerse yourself in the nature. Especially in Cat Ba National Park, you can have a spectacular view of the prolific forest from the observatory on Ngu Lam Peak.
Besides dried squid and groupers, Cat Ba is also famous for other seafood, such as Mantis shrimp, octopus, blue swimmer crab, mollusks, scallops, and oysters which you should try once in your life.
However, note that the price with get the peak in summer for it's the tourism season. You should ask for the price before you buy seafood. It will be joyful to have a BBQ on the beach with your friends and family.
One of the best activities for those who travel as a group is renting a boat to go to a remote beach in the bay and camp there.
Experiencing the life of Robinson Crusoe for a night will definitely become an unforgettable memory for all.
For those who are into extreme sports, hiking in Cat Ba is not a bad idea.
There are several spots for you including Dau Be Island – 2 hours by boat from Cat Ba port, Ben Beo cliff – just 2 km from the town of Cat Ba, Ba Trai Dao Island – 22 km south of Cat Ba port. You also can hike right in Monkey Island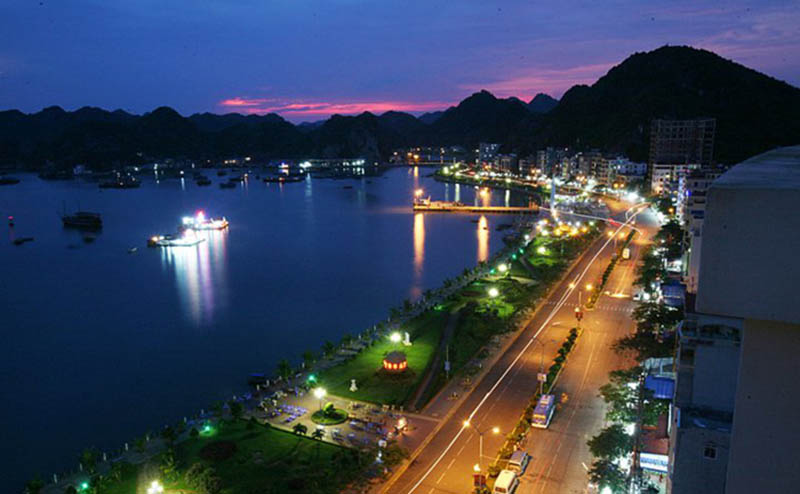 While cat Ba provides visitors with plenty of daytime activities, activities at night seem to be limited.
Besides some bars and local pubs in the town, the beach is where people go for a walk.
The fresh air from the sea will invigorate you after a long day exploring the island.
You can also rent a tandem bicycle to wander around with your friends and family. Additionally, the staircase connecting Cat Co 1, Cat Co 2, Cat Co 3 beaches is an ideal place for couples.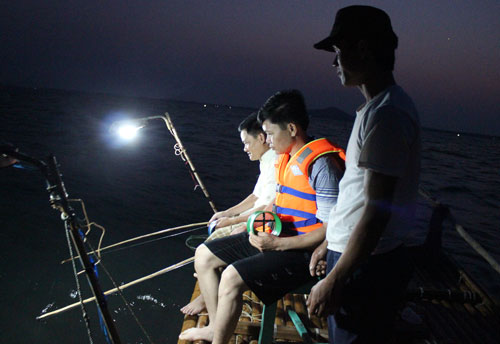 Catching squid at night is quite interesting. However, the price is a bit high, around 500,000 VND/person.
You can ask for information from your hotel or from the office of Cat Ba Express or go straight to the housing boat or boat driver in the town.