How to get to Moc Chau from Hanoi
How to get to Moc Chau from Hanoi? We will answer that question for you in this article and your trip will be really easier from Hanoi to Moc Chau.
A big plateau of Son La province, Moc Chau, which is famous for its poetic natural charm, big cow flocks reared by huge and endless grass steppes, is a must-visit destination in Vietnam.
Book online with the booking box on this website.

Click to book

(recommend website )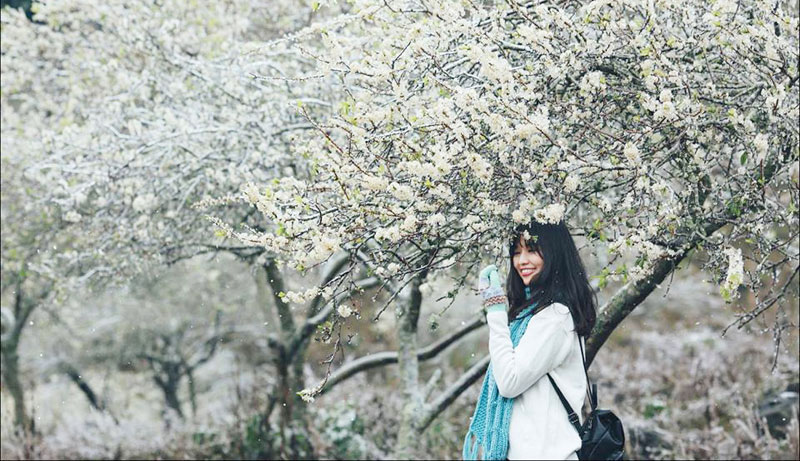 Best time to visit Moc Chau plateau
There are 2 main tourist seasons in Moc Chau: Autumn - winter (late October to January), when this town has Da Quy and kale flowers and spring (during February and March), when flowers of cherry and damson blossom in this town.
Pure white as they are, damson flowers in Moc Chau is much more beautiful than those in other lands.
How to get to Moc Chau from Hanoi?
It is possible to get to Moc Chau by both motorbike and coach. However, the most popular transportation amongst backpackers is motorbike, by which you can stop to take beautiful photos anywhere.
By motorbike
Go along 6- highway to travel by motorbike from Hanoi to Moc Chau or go along Old 6- highway if you like a little of adventure.
Although a little bad and difficult to go, this road running after Da River offers very stunning view with a few spectacular waterfalls and Hoa Binh lake of hydroelectricity, a well known spot in Vietnam.
The Old 6- highway also takes you through many Hmong ethnic villages as well as some of very colorful flower gardens of damson and cherry.
Expect to spend 3 days if you want to travel to Moc Chau by motorbike. On the first day of the journey coming to Moc Chau, you are advisable to pay a visit to Mai Chau (a town of Hoa Binh province) and stay overnight there.
On the second day, you should keep on going to and discover Moc Chau. You will return Hanoi on the third day and make stop at some attractions on the returning way.
Get bus Hanoi to Moc Chau
It takes about 4-5 hours to travel between Hanoi and Moc Chau the distance is about 190km. Travelers can find many bus trips in 1 day, most of which depart from My Dinh bus station.
Remember that all buses to Dien Bien and Son La always pass Moc Chau town.
Where to stay in Moc Chau?
New Farm town and Old Farm Town are the 2 areas having many hotels and motels with fully basic comforts in Moc Chau town with prices ranging from $10 to $15/ room. Specialties to enjoy in Moc Chau
Milk
Although you can definitely enjoy cow's milk when traveling to Moc Chau, it is wise to drink in the morning for breakfast to really feel the awesome taste.
Thai rice
You will see vegetable forests, vegetables planted in Xuon Phom, all kinds of vegetables including: eggplant, melon and cucumber if you eat a meal of Thai style.
Herbivores such as goats, cattle, etc are raw materials for food processing Pia.
The most popular are goat Pia and cow Pia. Pia processing should prepare enough material from the parts of goat, cow such as: liver, stomach, heart, silver music, meat, tail, cartilage and pudding east.
Although Pia is a little difficult to eat at first, after enjoying a few times, you will definitely get addicted to the bitter spicy fragrance.
In addition, don't forget to take home: wine, wild apple, peanut candy, doi candy (which have peanut inside), banh khao (sweet short cake- made of roast glutinous rice flour), products from Moc Chau dairy, veal and smoked buffalo.
Description: Moc Chau travel guide is useful if you want to visit the big plateau that is famous for poetic natural charm, big cow flocks reared by huge grass steppes.
Read more →