How to get to Cat Ba Island from Hai Phong
How to get to Cat Ba from Hai Phong? The shortest way to go from Hai Phong to Cat Ba is by Got ferry, speed boat or Cat Ba cable car. Those are the best ways.
How to get to Cat Ba from Hai Phong
I suppose you are not familiar with any of the places mentioned here so before we get down to the road of island - port – ferry terminal – flyover – etc., here are 3 parts of the journey with their associated spots:
(1) In Hai Phong City (mainland), we have a very important spot: Binh ferry terminal.
(2) Then we have the transit island called Cat Hai Island. In this island, please remember the Got ferry terminal.
(3) Finally, our final destination – Cat Ba Island. There's two spots to remember: Cai Vieng ferry terminal and Phu Long port.
You can also book → Hai Phong to Cat Ba Island car
Read more:
See the map below to have a better visualization.
Now it's time to choose the route that fits you the best.
Recommend ⇒ Option 1: Book a Cat Ba Island - Lan Ha Bay day tour from Hai Phong City → Click to Book or here
Option 2: You can take a speedboat from Binh ferry terminal and go directly to Cat Ba Island (~250,000 VND – 60 mins). It's fast but expensive.
Timeline of Binh Speedboat
| | |
| --- | --- |
| Binh to Cat Ba | Cat Ba to Binh |
| 09h00 | 10h00 |
| 13h00 | 14h00 |
Option 3: You can go to the flyover called Tan Vu – Lach Huyen that connects the mainland to Cat Hai Island.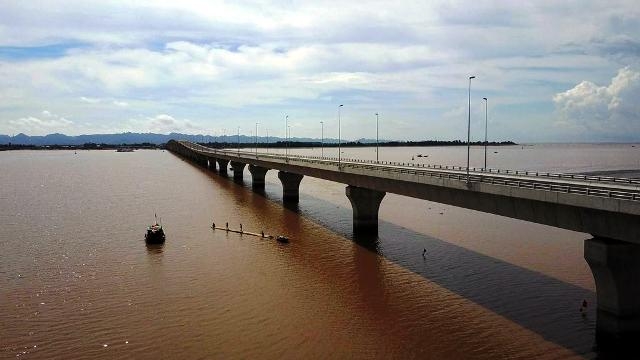 There's a parking lot at the Got ferry terminal where you can park your motorbike/car or you can just bring them with you and pay some extra fees.
Then from Got ferry terminal in this island, you take ferry (12,000 VND – every 30 minutes from 5 AM to 19 PM - duration: 30 mins) or speedboat (80,000 VND – duration: 8 mins) to Cat Ba Island.
Depends of what means you choose, you will arrive in different places in Cat Ba Island. When you arrive in Cat Ba Island, take the bus to center town. Distance 23km.
Got Ferry price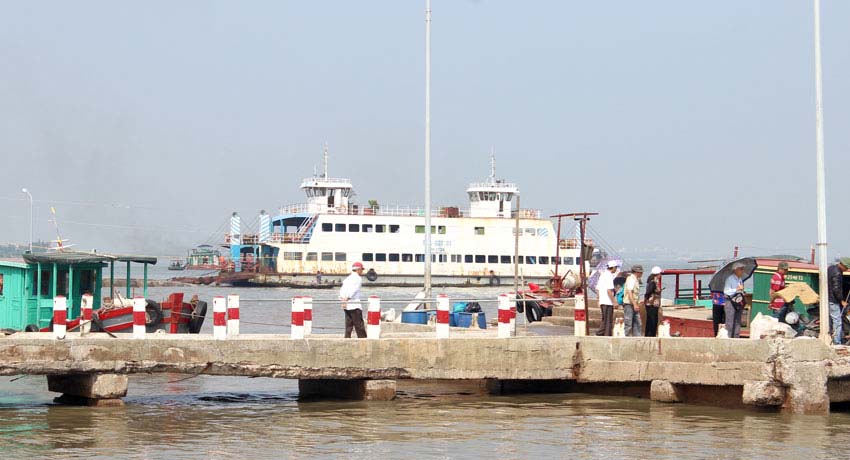 | | |
| --- | --- |
| Ticket type | Price |
| Traveler | 12,000 VND / person |
| Motorbike | 45,000 VND / bike |
| Under-9-seat car | 190,000 VND / car |
| 9-to-24-seat car | 210,000 VND / car |
| 24-to-32-seat car | 240,000 VND / car |
| Over-32-seat car | 330,000 VND / car |
Timeline Got Ferry
Departure time
No.
Got Pier
Cai Vieng
1
5h30' (big ferry)
5h00' (big ferry)
2
6h00' (big ferry)
5h30' (big ferry)
3
6h30' (big ferry)
6h00' (big ferry)
4
7h30'
7h00'
5
8h00' (big ferry)
7h30' (big ferry)
6
8h30'
8h00'
7
9h00'(big ferry)
8h30' (big ferry)
8
9h30' (big ferry)
9h00' (big ferry)
9
10h00' (big ferry)
9h30' (big ferry)
10
10h30' (big ferry)
10h00' (big ferry)
11
11h00'
10h30'
12
11h30' (big ferry)
11h00' ((big ferry)
13
12h00'
11h30'
14
12h30' (big ferry)
12h00' (big ferry)
15
13h00'
12h30'
16
13h30' (big ferry)
13h00' (big ferry)
17
14h00'
13h30'
18
14h30' (big ferry)
14h00' (big ferry)
19
15h00'
14h30'
20
15h30' (big ferry)
15h00' (big ferry)
21
16h00'
15h30'
22
16h30' (big ferry)
16h00' (big ferry)
23
17h00' (big ferry)
16h30' (big ferry)
24
17h30' (big ferry)
17h00' (big ferry)
25
18h00'(big ferry)
17h30' (big ferry)
26
18h30'
18h00'
Timeline of Got speed boat
| | |
| --- | --- |
| Time for Got | Time for Phù Long |
| 7h30 | 7h20 |
| 9h30 | 9h20 |
| 10h30 | 10h20 |
| 13h30 | 13h20 |
| 14h30 | 14h20 |
| 16h30 | 16h20 |
Option 3: Bus Hai Phong to Cat Ba
Bus Hai Phong to Cat Ba
Price from:
150.000

đ

/ pax
Vehicle:
Car & Speed Boat
Timeline of bus
From Binh
From Cat Ba
Morning
5h45
5h30
9h00
8h50
Afternoon
12h20
12h10
14h00
13h50
15h50
15h50
Office address: 16 Ben Binh and 41 Ben Binh, Hong Bang, Hai Phong
Read more →