How to get to Sapa from Hanoi
How to get to Sapa from Hanoi by train, bus, bike...? From this article, you will find out which is the best way that match your itinerary and budgets & our tips and advice.
Sapa is a luring faraway paradise, up in an impressive mountain of northeastern Vietnam. Getting there seems like a real chore for travelers. I will give you the necessary tools to make this trip stress-free in this detailed article.
How to get to Sapa from Hanoi?
Vietnam offers more than golden sand beaches and blooming rice paddy fields. We have many well-known cities that are bustling metropolises.
Although finding the hidden coffee shops in the alleyways or discovering the best pho has you feeling content with experiencing Vietnam, there is natural beauty beyond the concrete jungle.
It is difficult to find these hidden landscapes because you must often venture across bumpy roads and confusing routes but this is exactly what makes Vietnam unique.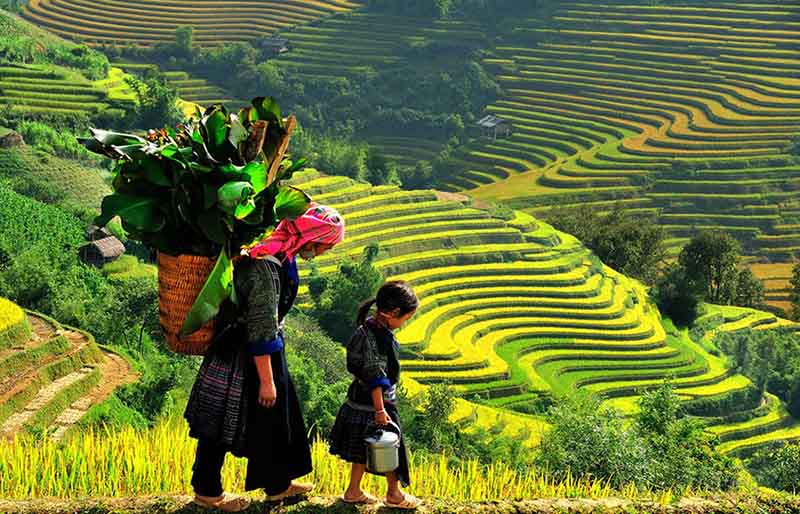 320 kilometers to the northeast of Hanoi is Sapa; this is where you can truly experience Vietnam.
Before you think about venturing to Sapa, keep in mind that from May to August is the rainy season; rainfall, typhoons, and mudslides are frequent and they can lead to accidents and unpleasant experiences.
Travelers can choose between a shuttle, minibus, sleeper bus, private car, a combination of train and cab, or renting a motorbike to get to Sapa from Hanoi.
I will break down these options based on how much effort is required to make plans through three categories: ease of booking, interior comfort, and expected experiences.
Ease of booking: 5/5 – anywhere, anytime
Book online with the booking box on this website.

Click to book

( Recomend website )
Interior comfort:
2/5 for minibus and shuttle bus – bad seats but the cheapest option
3/5 for express bus – soft, comfortable seat
4/5 for sleeper bus – lots of space and ability to sleep
Expected experiences: 3/5 – non-stop ride, hard to take pictures of scenery
It is easy to book these buses and difficult to get scammed, which makes them good options. Book directly through your hotel receptionist in Hanoi for ease.
Or you can get a ticket at almost any travel agency in the Old Quarter, where you can consult experts about the quality, services, and price of the ride.
You can also try booking online. But I only recommend reserving the ticket via telephone and pay later when you get on the bus. Online payment often leads to scams and service provider problems.
The price ranges from 220,000 VND (10 USD) to 450,000 VND (20 USD), depending on the amenities of the bus (wifi, outlets, water and snacks, toilet, etc.) and some buses even come with an in-car tour guide.
You will have a smooth ride with AC and the bus usually stops once at a petrol station where you can get snacks and stretch your legs.
Many websites will mislead you by saying the ride takes only 5.5 hours but in fact it should be from 6 to 6.5 hours, due to traffic and weather.
It is also important to note that sometimes the mini buses or shuttle buses circle around Hanoi for around an hour to gather more passengers before actually taking off. You might get cramped with too many passengers.
I have compiled the express bus and sleeper bus departure times throughout the day; pick-up from your hotel is widely available also, you can ask the front desk about booking:
Morning, 6:00 – 7:00 AM, arrives at noon in Sapa
Midday, 12:00 – 1:00 PM, arrives at dusk or early evening in Sapa
Night, 9:00 – 10:00 PM, arrives in the early morning (I do not recommend this choice because you will miss the beautiful scenery on the way)
The day trips should be safe, smooth, and they offer great sightseeing. Beware of the night trip: backpackers smell, continuous honking doesn't let you sleep, crazy maneuvers from a sleepy driver throw you around, the dangerous darkness poses risk of accident, and you will miss the scenery.
There are many bus options but I recommend Sapa Express as the best option, followed by Queen Cafe VIP Open Bus, EcoSapa Limousine, and Ha Son Hai Van.
Ease of booking: 4/5 – may require some arrangement and negotiation
Interior comfort: 3/5 – soft seat but still a long ride
Expected experiences: 4/5 – stops on demand, easy for sightseeing
If you have already booked your stay in Sapa or are staying in Hanoi, ask your accommodation if they can arrange a private car for you.
Provide them your pickup address, this can be the address of the airport or your hotel in Hanoi, and a car will be sent at the specified time for your convenience. Charges vary but this is the least stress-inducing option.
You can also arrange a private car through any travel agency in the Old Quarter of Hanoi, always ask for the price before booking one.
For your reference, my own private service of choice, Vietrapro, offers single trips of 155 USD for a four-seater car and 160 USD for a seven-seater.
Most agencies should range from 150 USD to 200 USD for a single trip, but it also depends on the quality of the car.
Here are my recommended trustworthy companies with English speaking operators and drivers:
Vietrapro
Address: 02 Luong Su B, Quoc Tu Giam, Hanoi
Hotline: (+84) 98 155 3226
Booking site: Vietrapro
Golden Holiday Travel:
Address: 104C17, Tan Mai, Hoang Mai, Hanoi
Hotline: (+84) 98 845 1530
Booking site: Golden Holiday Travel
Hanoi Transfer Service:
Address: 21 Ma May, Hoan Kiem, Hanoi
Hotline: (+84) 98 235 8282
Booking site: Hanoi Transfer Service
Take a look at their services on the websites I provided and give them a call for more details.
Book online with the booking box on this website.

Click to book

( Recomend website )
The private car option is as comfortable as it gets, so of course, it will be much more expensive than the other options available, therefore you can arrange with the operator and the driver if you want to visit sites along the way and have breaks on demand as well.
If you are traveling in a group or with your family, this will be the most comfortable option! Moreover, getting a private car pickup is available at any time whereas other transports are limited by set schedules.
Ease of booking: 3/5 – needs to be booked beforehand and beware of bus scams from Lao Cai to Sapa
Interior comfort:
5/5 – luxury car gives you a lot of space
3/5 – normal/mid-range cabins have soft seats
Exterior experiences: 1/5 – Night trip, there is almost nothing to see apart from flickering lights and stations. For transit from Lao Cai to Sapa, the experience may vary from 3/5 (non-stop ride) to 4/5 (stop on demand) depending on your choice of transit.
Traveling by train is a must-try experience in Vietnam. From Hanoi to Sapa, you must stop at Lao Cai train station, from there you have to hop on a second transport to your destination. It takes around eight hours on the express train and another 1.5 hours to actually get to Sapa.
Vietnam Railways runs two daily express trains from Hanoi to Lao Cai: SP1 (9:35 PM from Hanoi – to 5:30 AM at Lao Cai) and SP3 (10:00 PM – 6:05 AM).
The train only stops at major stations so the trip should be smooth and seamless. In high season and national holidays, more trains such as SP5 and SP7 are available to meet the demand.
The train has standard cars operated by Vietnam Railways (VNR) and customized cars operated by private railway companies.
VNR cars consist of different classes: soft seat, six-berth sleeper, and four-berth sleeper ranging from 155,000 VND to 400,000 VND (6 USD – 17 USD), all with AC, acceptable toilets, and hot/cold water dispensers.
Cars operated by private railway companies are generally four-berth or two-berth sleepers that range from 500,000 VND up to 3,500,000 VND (20 USD – 150 USD) depending on quality and standards.
Please be aware that there are scamming companies that sell normal VR berths for higher prices and bluff about the quality. Always plan ahead and book return tickets if you want to return to Hanoi by train, to avoid fully-booked situations.
For standard VNR seats, the best way to check availability and reserve online is to do it through the official website – dsvn.vn. The English button is located top right, and the site is easy to navigate.
Payment is processed safely online and you can receive an electronic ticket, or you can choose to pay later and collect the physical ticket at the station. In addition, there is also a transit bus service option from Lao Cai to Sapa available for an extra of 45,000 VND (2 USD) that comes with the ticket.
There is a dining cabin with cheap food (1-2 USD), and there are also on-board caterers that push food and drink carts throughout the train, but it is always a good idea to prepare your own bites prior to travel.
Pro tip: people have smelly feet so try to book an upper berth.
If you would like to have a better experience, try private-owned cars. They range from refurbished standard cabins to five-star, colonial Indochina-style luxurious cars. Here is a list of four trusted companies with good services:
Book online with the booking box on this website.

Click to book

( Recomend website )
King Express
Price: 22 USD for a berth in a deluxe four-berth cabin to 97 USD for a whole VIP two-berth private cabin
Hotline: (+84) 94 725 0025 – Mrs. Linh
Booking site: King Express
Features: Good money for value, free transit to Sapa, and free pick-up from the Old Quarter for two or more.
Orient Express
Price: 35 USD for a berth in a deluxe four-berth cabin to 70 USD for a berth in VIP two-berth cabin
Hotline: +84 43 929 0999 / +84 43 929 0597
Booking site: Orient Express
Features: Most beautiful interior for the cheapest price, but no extra transportation included.
ET-Pumpkin Express
Price: 42 USD for a berth in a deluxe four-berth cabin
Hotline: (+84) 43 829 5571
Booking site: Et Pumpkin Express
Features: Well-decorated cars, free transfer from their office at 7:45 PM to the station with a one-way ticket, with a roundtrip ticket you get an extra transit to Sapa from Lao Cai
Victoria Express
Price: 79 USD for a berth in a deluxe four-berth cabin to 135 USD for a berth in a superior two-berth cabin
Hotline: (+84) 214 387 1522
Website: Victoria Express
Features: Most luxurious experience available: elegant, colonial Indochina style cars, snack cabin for food and refreshments, big windows, individual amenity kits, slippers, bathrobes, and a lounge to relax prior to departure.
Once you arrive at Lao Cai Railway Station, there are many transportation options waiting to take you to Sapa, usually at a 'fixed' rate of around 100,000 VND (5 USD) for busses and 500,000 (25 USD) for private cars.
However, there are aggressive scammers that quote 100,000 VND (5 USD) initially and then charge up to 200,000-300,000 VND once they have your luggage in the trunk.
It is difficult to pick these scammers out of the crowd but they are often pushy and will try to pull you over to their bus. You can try bargaining also.
If the bus is not completely full on departure, drivers will sometimes stroll around the city to fill up empty spaces.
Therefore, it is best to have your hotel arrange pickup for you that guarantees a fixed rate.
There is also a public bus to Sapa, which runs frequently starting at 5:20 AM and costs no more than 30,000 VND (1.5 USD). The official bus stop is just across the street from the train station.
The public buses are red and yellow, parked in the bus station, so avoid anyone trying to get you on their "bus" in the train station.
The ride to Sapa takes more than an hour. This is where the views begin. Spectacular vistas follow you into the mountains: clear sky, colored terraced fields, and vast green mountains. The road traverses a mountainous area, so you should expect continuous curves. Take motion sickness medication if needed.
This is considered the most challenging trip with 0/5 comfort yet it the most rewarding 5/5 experience. Avoid riding during the night for your own safety. The trip will take up to 10 hours. This of course depends on how many times you want to stop for rest and photos.
Make sure to thoroughly check your bike before tackling this 400-kilometer adventure. Keep in mind that topping up fuel regularly is essential, as petrol stations and garages are far apart.
Bring along a 1.5-liter empty bottle to fill up with fuel in case of emergency, and you should buy petrol from official stations rather than local vendors. Local vendors sometimes dilute the fuel and this could lead to problems with your bike.
Since Sapa is very rural with little data coverage, you cannot rely on technology for the whole way. I highly recommended having this information with you: a compass (if you take the first route below), and a printed map detailing the route from Hanoi to Sapa.
Do not depend on Google Maps, since it only displays the route to get to Sapa via Express Highway, which bikes cannot enter.
Getting to Sapa on your own bike is fairly pleasant; you just need to be extra careful on mountainous curves, mark down every guiding landmark listed below, and take frequent rests to take care of your body. There are two common routes from Hanoi to Sapa on motorbike:
Go Northwest along the Red River to Lao Cai, then continue onto Sapa. This is the fastest route (334 kilometers only), yet the trickiest route. I suggest writing down all road names in Vietnamese in case you have to stop for guidance from a local.
From Hanoi, find your way to QL32 (national road 32).
Stick to the road until you reach the first landmark – Tam Nong Garden Park in Phu Tho province: "Vuon Hoa Tam Nong, quan Tam Nong, tinh Phu Tho". You have made it 25% of the way.
Take the route on the left of this triangular park. Turn left again at the end of it to continue on QL32.
There will be an intersection where QL32 turns left, continue straight onto QL32C.
Follow QL32C, the Red River should always be on your right, until you get to the second landmark: "Cau Yen Bai, Hong Ha, tp. Yen Bai" – which is the Yen Bai bridge of Yen Bai city. You are 45% of the way there.
Cross the bridge, circle the roundabout and follow the route on the left – "Duong Nguyen Phuc – DT163" and continue straight, keeping the Red River in your sight to the left. You should see the railway also.
Once you reach "Ga Trai Hut, An Binh, Van Yen, Yen Bai" – Trai Hut Railway station the road (DT163) turns left. Keep straight, with the river to your left.
The next landmark will be "Lang Khay, Lam Giang, Van Yen, Yen Bai." Just keep going straight once you pass it, and again, you should be riding with the river on your left until you reach Lao Cai province.
Continue straight until you reach "Thai Van, Bao Ha, Bao Yen, Lao Cai." The route stops following the river here and it turns right. Follow the big road and do not bother with any routes to the right, until you reach a three-way intersection. Turn left at the intersection. If you are unsure where you are, ask a local about "Song Hong" – the Red River. It should be west of your position. You are now 80% of the way there.
Continue on the road again. "Pho Lu, quan Bao Thang, Lao Cai" town is the next landmark. Once there, ask for QL4E road, which crosses the river out of town.
Follow QL4E until you reach "Thanh pho Lao Cai" – the Lao Cai city.
Drive to "Cho Kim Tan, thanh pho Lao Cai" – Kim Tan market of Lao Cai city and turn onto QL4D – your road to Sapa!
For your reference, this is the link to the route on Google Maps.
Follow QL32, passing Mu Cang Chai district of Yen Bai. This is one of the most spectacular landmarks of Vietnam. You can conquer two of the four legendary mountainous passes of the northwest region before reaching Sapa. This is a longer route (440 kilometers), but it has better sight-seeing.
From Hanoi, take QL32 (national road 32).
Stay on QL32 until you reach QL4D and turn right to get to Sapa. That's it!
I recommend writing these important words down in order to show them to the locals in the following order: "QL32", "Mu Cang Chai", "QL4D", "Sapa" – cross them out as you go. The route diverges in every direction, so the compass is useless. Use the map and these words to reach your destination.
The first route should be faster yet sometimes frustrating with so many turns and landmarks. Since it runs along the river, you pass through nice towns and villages, making for a peaceful ride.
If the first guide is too complicated and you would like to enjoy more sightseeing and conquer passes, then the second option is for you. Keep in mind, that the second route is 100 kilometers longer.
You will have to keep your bike well-maintained and refueled whenever possible. On the way, apart from the grand spectacular panorama of Mu Cang Chai district, you can also visit some ethnic villages and hidden waterfalls as well.
The town of Sapa poses an exotic, rare charm that lures in Vietnamese and foreign travelers alike. Book your flight, make the easy arrangements, and be ready for the adventures ahead!
Contact us now to get the best price for your get away!
Hotline: +84 976951999 (Mr. Hien)
Read more →