How to get to Ninh Binh from Cat Ba Island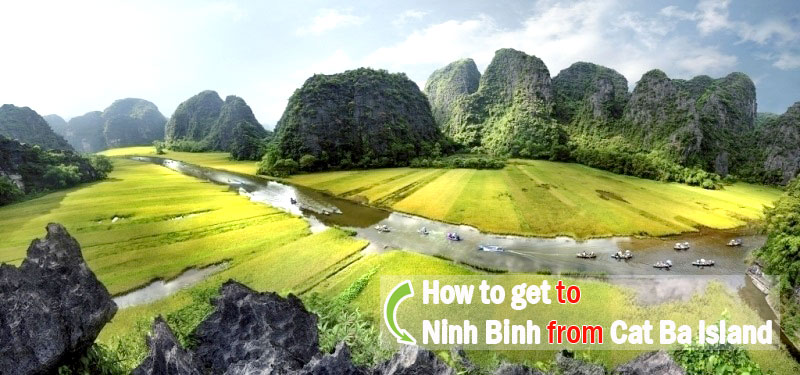 Ninh Bình City
is located in northern Vietnam comprising 48 square kilometres; the 2007 city population was 130,517. Binh Bình province is a tourist centre with many attractions:
→You can also book a bus to Ninh Binh from Cat Ba

here


→You can also book a bus to Sapa

here


→You can also book a bus to Hanoi

here
Bus Cat Ba Island to Ninh Binh timetable.
Cat Ba island => Ninh Binh

pickup: 7:40AM, 12:50

PM, 14:40PM
Bus Ninh Binh to Cat Ba Islandtimetable.
Ninh Binh => Cat Ba Island: 7:45am , 8:45am
Ancient capital of Hoa Lư, witnessed the crowd of King Dinh Tien Hoang (924-979), a hero who settled Twelve Warlords. Dinh Bo Linh was from Hoa Lu village. When he was a boy, he often used reed wool to hold field manoeuvre with other shepherds and practised martial arts. Now King Dinh Tien Hoang Square is being built in the city in memorial of him, becoming a stunning tourist attraction.

Tam Cốc - Bích Động
with numerous other caves made up a spectacular region for boat touring and cave exploring.
Tràng An Scenic Complex
A newly discovered area for tourism with stunning and untouched beauty. Recently Titan Crew, aka King Kong movie-making crew has visited Trang An for some of the most important scenes in "Kong: the Skull Island", on the air in 2017.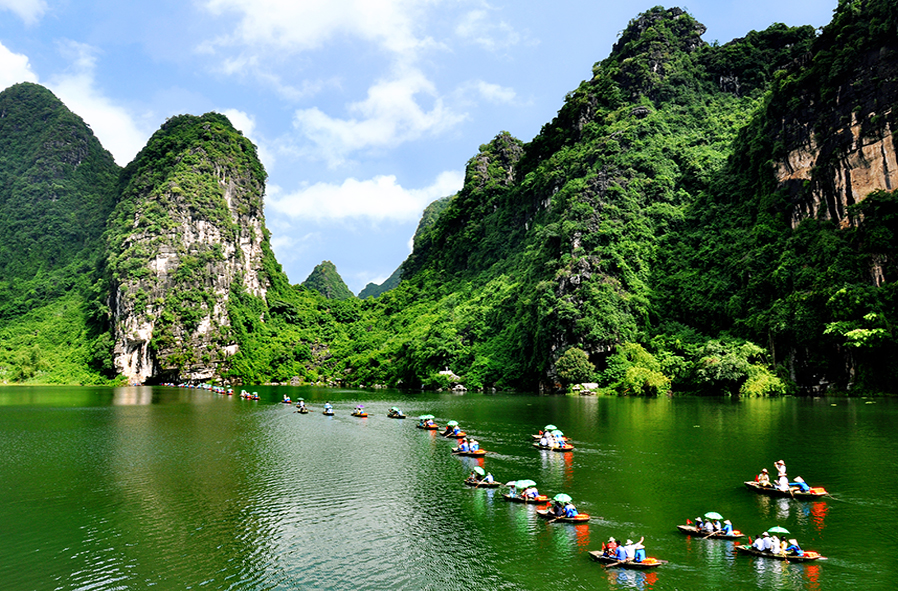 Bái Đính Temple
currently holds the record for having the biggest Buddha Statue in South East Asia.
Recently Thung Nham bird garden has been known for more tourists. Resorts, bird viewing, boat tour, wooden house residing, along with many other services are available for tourists. Thung Nham is about the fifty-minute drive from Tam Coc- Bich Dong.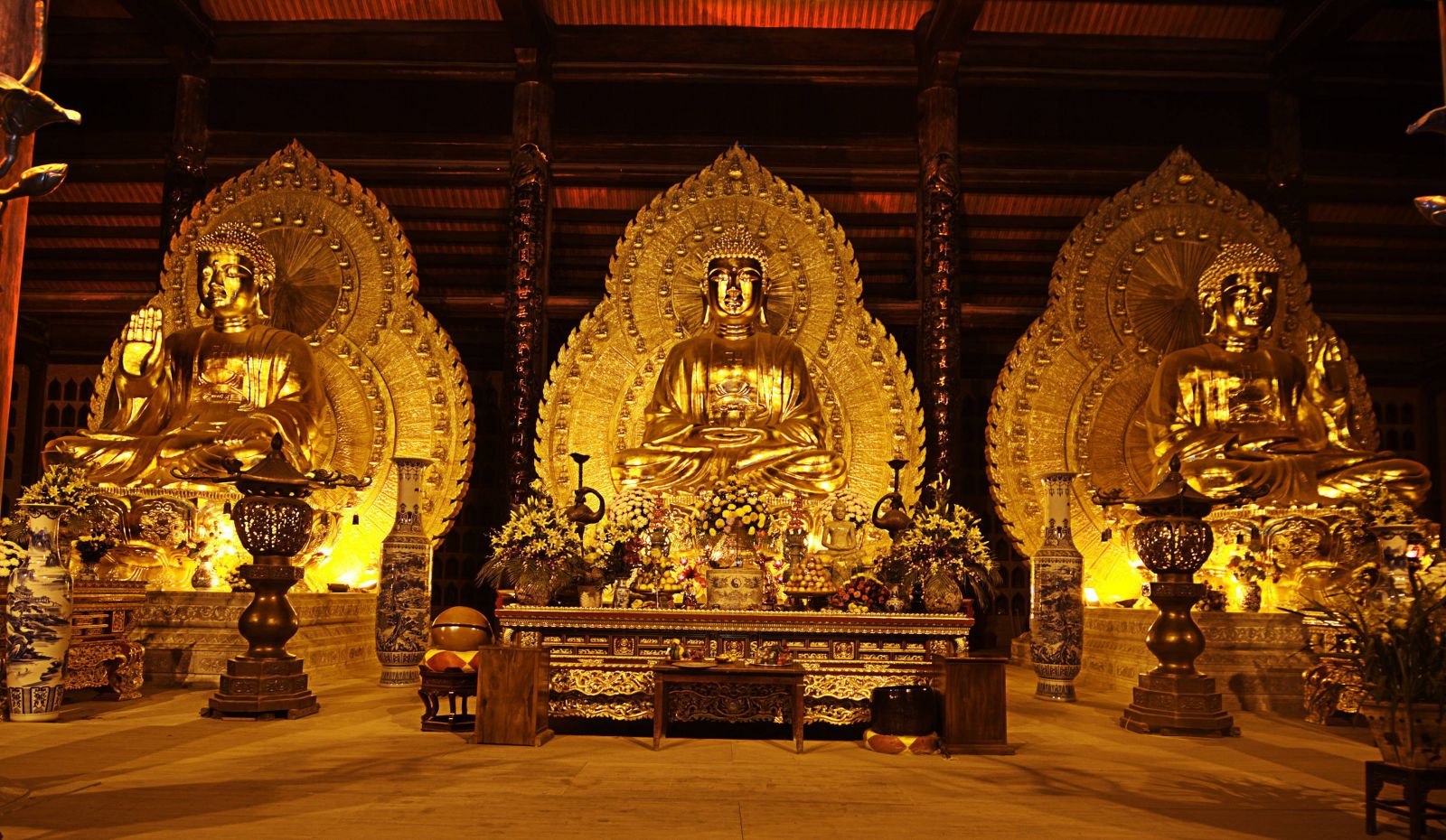 Phát Diệm Cathedral
Phat Diem Stone Cathedral is one of the most famous and beautiful churches in Vietnam with special architecture: an elegant combination of Western church architecture style and Vietnamese religious buildings.
Cuc Phuong National Park
In a couple of years, Ninh Binh will have its own beach, also known as Con Noi Beach in Kim Son.
HOW TO GET TO NINH BINH FROM CAT BA
I/ BY YOUR SELF
1. Book a speedboat ticket from Cat Bat town to get to Ben Binh (Nearby Lac Long Bridge) in Hai Phong City centre. It takes about 45', provided by http://vetaucaotoc.com/158_tau-cao-toc-hoang-yen/848_tau-canh-ngam-mekong-hoang-yen.html or http://vetaucaotoc.com/159_tau-cao-toc-cat-ba-island/435_ve-tau-cao-toc-cat-ba-island.html
It charge about 180.000 – 250.000 vnd.
Then you ask local taxi to pay 50.000-70.000 vnd to get to Niem Nghia Bus Station to find the bus to go to Ninh Binh City: http://thuonghieuvietnoitieng.vn/di-dau--bang-gi-/van-tai/ninh-Binh---ninh-binh-di-hai-phong-2-p9554.html or http://cars.net.vn/tin-tuc_1063_Xe-Tp.-Ninh-Binh-di-ben-xe-Niem-Nghia,-Hai-Phong.html
It charges about 170-200.000 vnd
- Highlight:
+ Just speed boat and bus
+ Easy to go on more trips/day
- Low point:
+ Local service
+More expensive
+Payment many time and not fix a price
+Not get to some attraction tourist places like Tam Coc.

2. By Private car
You can request from every travel agent or hotel in Cat Ba where you are staying. Taxi Cat Ba; Cat Ba Vision; Cat Ba Express
It's cost around 150$ - 170$/ car (depend on number f people)
- Hight lights:
+ Go at any time
+ Straight way
+ Luxury
+ Faster
- Low points:
+ Expensive
II/ Through a Bus company
1. The Long Tourist Bus company: http://thelonghotel.vn/bus-ninh-binh-ha-long/
They run two trips a day 10.00 and 13.00 from Cat Ba meeting point. 11
2.
The Luxury Bus
run by: http://catbaexpress.com/news.html , they run 2 trips a day:
7.45 and .45
They are the best choice for
Cat Ba - Ninh Binh
by good bus from Cat Ba to Ferry then take the Ferry to get to the other side then get on the Bus to go to Ninh Binh by 10 Highway, reaching to Ninh Binh around 5hours