Discover Cat Ba Beaches
In Cat Ba island has hundreds of large and small beaches, but clusters Cat Co beaches (Cat Co 1, 2, 3) is where a lot of tourists to the most by the rich natural landscape.
Cat Co 1 beach is wide and beautiful, lying around under the mountain, surfs year-round, and fresh air, and clear waters are where a lot of tourists rest and shower.
Cat Co beach 2 has a little serenity and mystery. Cat Co 3 beach bears quite modern colors.
On the shore, outside the entertainment area, is the population hostel-style small villa to suit every family.
Although the beach is not attractive as Cat Co beach 1 and Cat co beach 2, this is where many waves and quite deep, suitable for good swimmers.
Finished swimming, relaxing on sandy beaches or enjoying drinks and seafood specialties, you'll feel all the beauty of the sea, especially at sunset.
Book a bus & tour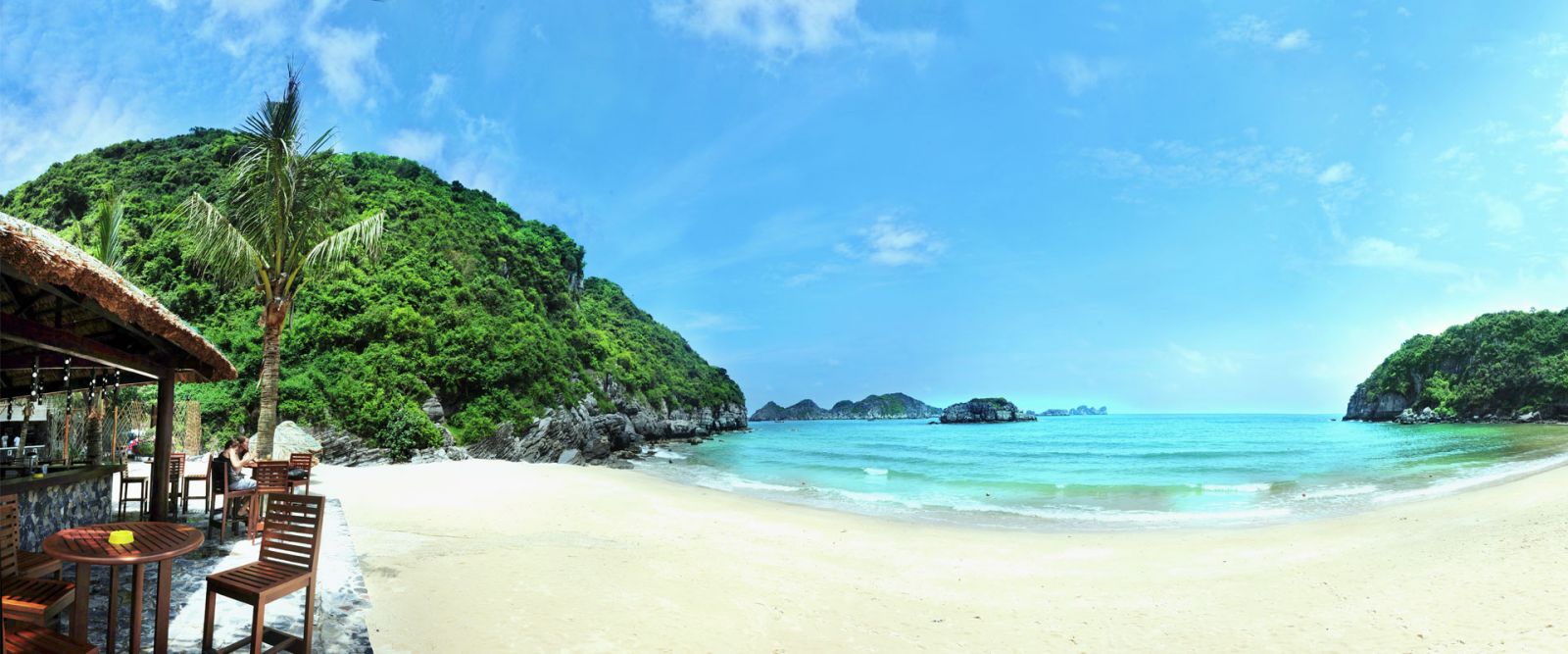 1. Cat Co beach 1
Look away, toward the end of the beach, there is a small bridge connecting Cat Co beach1 and Cat Co beach 2 as silk squeezed through the mountains.
Go over bridge to Cat Co 2 beach, crab crossing obscured the mountain, a new sky is wide open and a beautiful beach and a wild mix out front.
Here, visitors can swim, relax enjoy the sun and fresh breeze blowing in from the ocean.
Come to Cat Co beach 3. This is the newest tourist destination of Cat Ba Island. Cat Co beach 3 is quite beautiful building and modern tourist services here quite perfect from the beach, relax, eat and drink.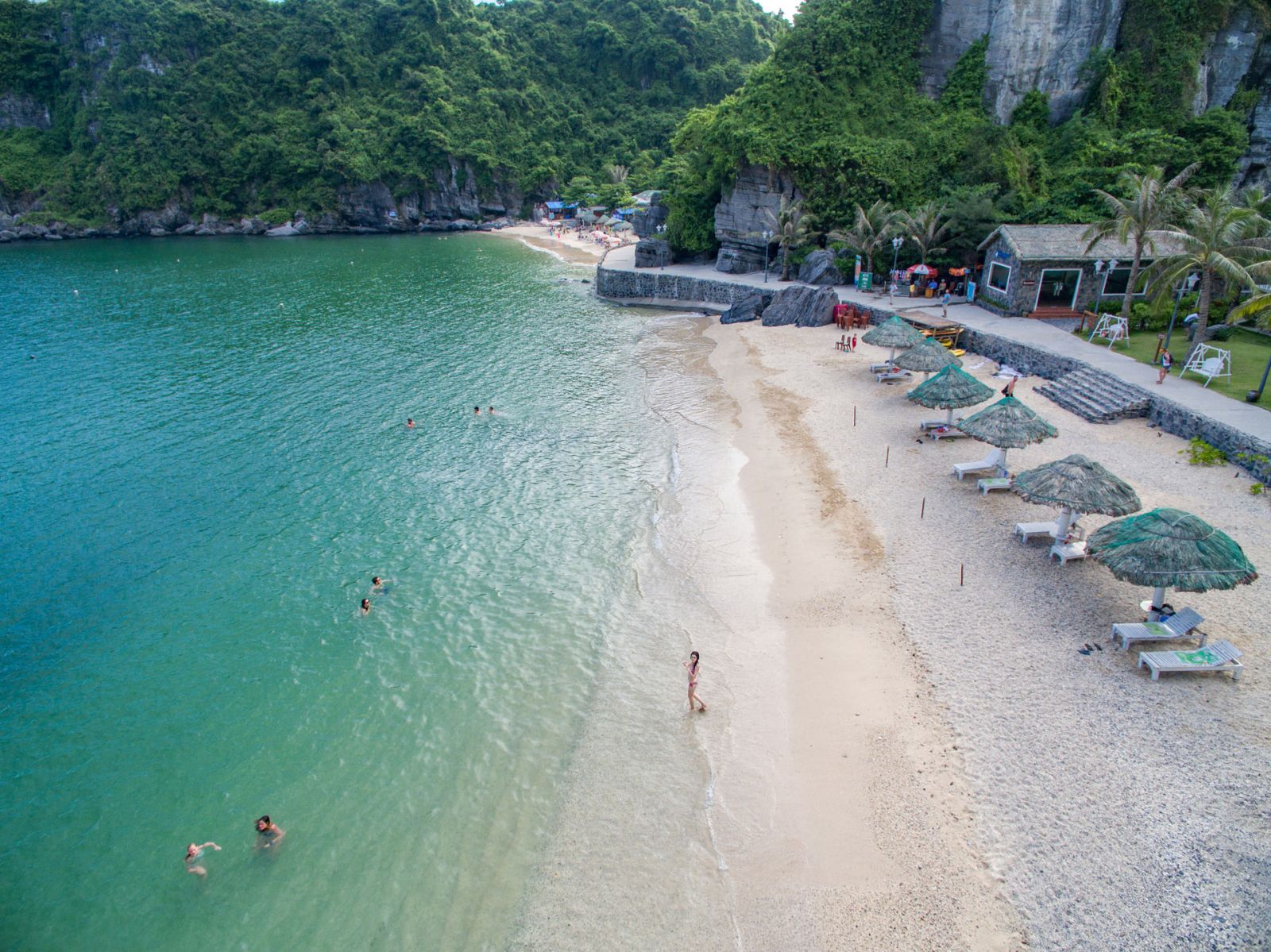 Cat Co 1 Beach
From Cat Ba Express office to Cat Co Beach
Tung Thu beach
This is investment beaches are being put to use. Here beach freak waves and quieter Cat Co beach.
Tung Thu beach of Cat Ba town is about 2 km away towards the jungle of Cat Ba.
Tung Thu Beach
From Cat Ba Express office to Tung Thu Beach
Monkey Island beach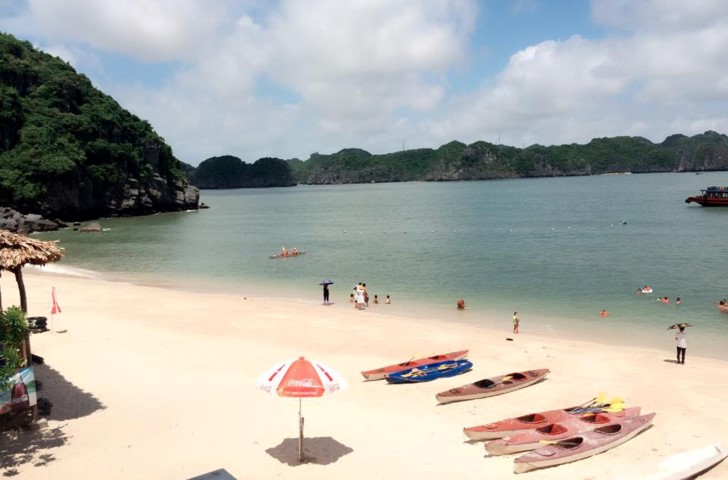 Monkey Island beach
Monkey Island is a small island located 2km from Cat Ba town.
Beach is approximately 1 km in length, located on Monkey Island and beaches called the Pineapple Cat.
This is really beautiful beach of Lan Ha Bay. Here, new visitors really feel the beach in Gulf by sea in this absolutely clear and clean.
To reach Monkey Island, tourists traveling from station Beo boat, Cat Ba town about 2 km. In fact, at Monkey Island has a smaller beach called Pineapple beach.
This beach is mainly for high-end tourists including visitors and international tourists Vietnam. It offers resort -style Resort - Monkey Island Resort with the traditional housing (thatch, bamboo, leaves).
If you do not want loud, this is the ideal destination of Cat Ba Island.
The other beaches
In addition to the above main beach, visitors can rent a boat to visit Lan Ha Bay and had to shower at the beach in the islands in the Bay of Islands as Van Boi beach (with beach scenery but not too deep is gorgeous), Van Boi beach the island and beaches Three Peach, Nam Cat island beach ...
Read more →