The Secrets of Cat Ba Island
Through the rugged hills beyond the developed town are limestone forests and Jurassic Park jungles - home to the golden headed langur one of the most endangered species on Earth. Carved in the cliffs are vacant caves.
Beyond the land along the bay is a community of people living on boats always mobile they are one with the secrets of the sea.
Cat Ba Island is an island more beautiful than I could have even imagined. An island filled with mystery.
Cat Ba " Historical name called Cac Ba " Island means "Women's Island" (Cac meaning all and Ba meaning women).
Legend has it that many centuries ago, three women of the Tran Dynasty were killed and their bodies floated all the way to Cat Ba Island.
Each body washed up on a different beach and all three were found by local fishermen.
The residents of Cat Ba built a temple for each woman, and the island soon became known as Cat Ba.
Three tiny beach coves sit hidden in the hills with soft white sand and warm jade water.
Cat Ba Island that sheltered natives for centuries until becoming Viet Cong enclaves.
In every rock you find a creature or a godlike face Cat Ba Island making you wonder Cat Ba Island what else lies beneath Cat Ba Island this peculiar mystical place.
How to Get to Cat Ba Island
Most people reach Cat Ba Island by booking a bus/boat/bus combo from a tour office in Hanoi. Expect bumpy roads, lots of stopping, and incessant horns.
One way costs about $10. The entire journey will last around 5 hours. Keep in mind you will have to get to the bus station which is outside of the Old Quarter.
The taxis like to scam you, so it could cost as much as $10 in traffic.
I took an alternate route, which I highly recommend. Rather than book transportation to Cat Ba, I booked a tour of Ha Long Bay that would drop me off on Cat Ba Island in the evening.
Since I planned to book a tour of Ha Long Bay anyway, this was a seriously economical solution.
For $20 I was picked up from my hotel in Hanoi in a minibus then cruised through Ha Long Bay on an old Junk.
The tour included kayaking in Ha Long Bay, a visit to a cave, lunch, and the transportation to Cat Ba town.
What to Do on Cat Ba Island
Explore the island by motorbike
The best way to truly see Cat Ba island is on the back of a motorbike.
If you know how to ride one, lucky you! Otherwise find a companion or hire a driver on basically any street corner.
The island is way too big and hilly to explore on foot or bicycle and there is so much to see.
Three temples dedicated to each of the fabled women that Cat Ba island is named after are up in the hills with stunning views.
There is a lookout point at Fort Canon with lots of secret bunkers from the war.
A butterfly farm, a zoo, and lots of local culture can also be observed by meandering through the hillside.
My favorite place I went to on the island is the Hospital Cave near the National Park. If you go just before sunset the light is absolutely beautiful.
Laze at one of the beaches
The beaches on Cat Ba island are surprisingly gorgeous. However, they are tiny and I imagine during the high season are positively crammed with tourists.
Two of the beaches are backed by huge resorts which were all but empty when I was there (October) despite the perfect weather. Cat Ba 2 is most popular with backpackers as it has only a few small bungalows.
Hike at the National Park
Much of Cat Ba island is protected, thankfully, by a stunning National Park.
The park has exotic species of animals, including the highly endangered golden headed langur, however spotting animals is uncommon.
Cat Ba Adventure Tours and Blue Swimmer offer overnight hikes.
There are other short, well marked trails that you can explore on your own and admission is less than one dollar.
Tour Ha Long Bay or Lan Ha Bay
The main attraction for anyone coming to Cat Ba island is access to the stunning limestone karsts in Ha Long and Lan Ha Bay.
There are plenty of tours leaving every day with lots of variety, but be aware many of these tours are very low quality.
I paid $20 for an all day tour of Lan Ha Bay with a visit to a cave, lunch, and kayaking, which was a ton of fun.
I was in one of the most beautiful places on earth aboard a ship, what could be so bad about that?
Nothing, but be aware that the guide barely spoke English and did not fulfill many things passengers were promised.
I was sold a kayaking tour, we only kayaked for one hour with no guide.
Another couple was sold a trip to Monkey Island, we never went there.
Everyone was told we would stop at a remote beach. He took us to one covered by water in high tide.
Blue Swimmer and Cat Ba Adventure Tours are said to have excellent, albeit more expensive, options.
Rock climbing
Cat Ba Adventure Tours leads rock climbing expeditions which are said to be amazing. Given the scenery I can only imagine.
Kayak around the island
It is possible to rent kayaks for the day ($12) from Blue Swimmer and wander on your own. I wish I had done this perhaps instead of my tour to Lan Ha Bay to have a more authentic experience exploring the fish farms and local boats.
Where to Stay on Cat Ba Island
Coming home to Cat Ba town after an amazing day in the jungle or on the bay can be a serious let down. Really, the town has no charm.
Ask anyone… and it's only going to get worse.
They have big plans to develop a huge resort, casino, and golf course on the South end of the island.
A real shame if you ask me.
Ideally stay on the beach, outside of town in the jungle, or onboard a boat. If you do want a truly economical choice, you can usually negotiate a double room in town for $8 with air conditioning, a sea view, and a private bathroom.
Cat Ba Eco Lodge
$50 per night for a double room
In the gorgeous hills this eco lodge is the perfect relaxing retreat. They have an onsite restaurant, beautiful rooms with hot water showers, and will arrange tours for you.
Monkey Island
$60 for a double room
Stay at your own private paradise at Monkey Island. The resort has a restaurant, bar, arranges activities, and offers all inclusive packages.
Cat Ba Beach Resort
Beachfront bungalows on the most laid back beach on Cat Ba Island: Cat Ba 2. They are beautifully done and there is an onsite restaurant and bar.
What to Eat on Cat Ba Island
The food on Cat Ba Island does not hold a candle to the cuisine in Hanoi. Don't expect much authenticity here. Most menus are tailored to Western and Chinese tourists.
Bamboo
$2-$10 for dishes
A good assortment of seafood and vegetarian dishes. The spring rolls here are among the best I had on the island. The hot pots also looked excellent.
Mr Zoom
$2-10 for dishes
The delicious seafood hot pot for $10 feeds four people. They also offer a free beer and a free vegetarian appetizer plate on some nights. The service is very friendly.
Fruit from the market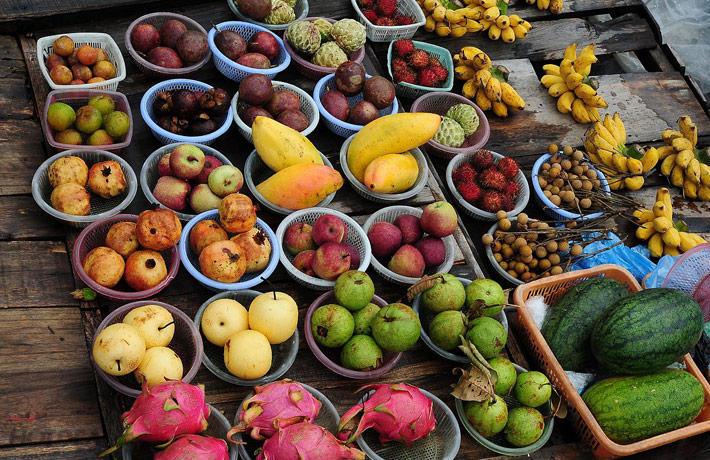 Barter
At the end of the road on the harbor, turn right and you'll see an alley with a huge market.
Culturally it's a great experience and you will see a huge variety of fresh seafood, some still alive, lots of fruit, and fresh young coconuts.