Lan Ha Bay – the forgotten paradise
South head to the south of Ha Long Bay and in the East of Cat Ba Island stands Lan Ha Bay covering 70 square km of 400 islands with various sizes and shapes. Unlike Ha Long Bay, islands in Lan Ha Bay are all covered by trees, even the smallest ones.


Spectacular view of Lan Ha Bay from above – Photo: taducanh

Recently ranked as one of the top islands in Vietnam, it is still not as illustrious as the others. Lan Ha Bay yet never disappoints visitors with its splendor. When you are in the Bay in the middle of autumn to feel the crisp breeze coming to enchant you and the waves shimmering in the light rays, you will be puzzling over how to describe exactly the invisible ocean of exultation inside you for those who are not lucky enough to be here.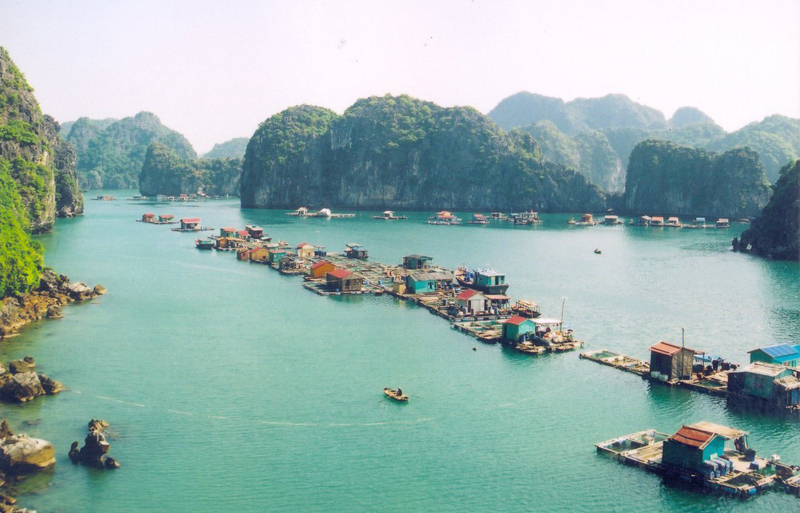 A floating village on Lan Ha Bay - Photo: catbabay.com.vn
Best time of the year to visit Lan Ha Bay:
The weather is pleasant all year round so the best time to visit Lan Ha Bay is anytime. Each season in lan Ha Bay offers visitors plenty of reasons to visit. Early fall offers crisp breezes, bright sun and comfortable temperatures while late fall and winter is perfect for extreme activities since you won't be dripping with sweat and heat but still feel invigorated and refreshed. However, from April to October domestic travellers visit the Bay at highest rate since it is summer vacation and from December to March is the time international travellers visit Lan Ha Bay the most.

How to get to Lan Ha Bay:
From Hanoi, you can book the ticket of Cat Ba Express online or in the office to reach the island. If you are in Cat Ba already, You can get to Beo port from the town of Cat Ba, buy the entrance ticket and book a ship to cruise the Bay. If you plan not to go too far from the shore, a canoe rented from the locals will be more convenient for the journey.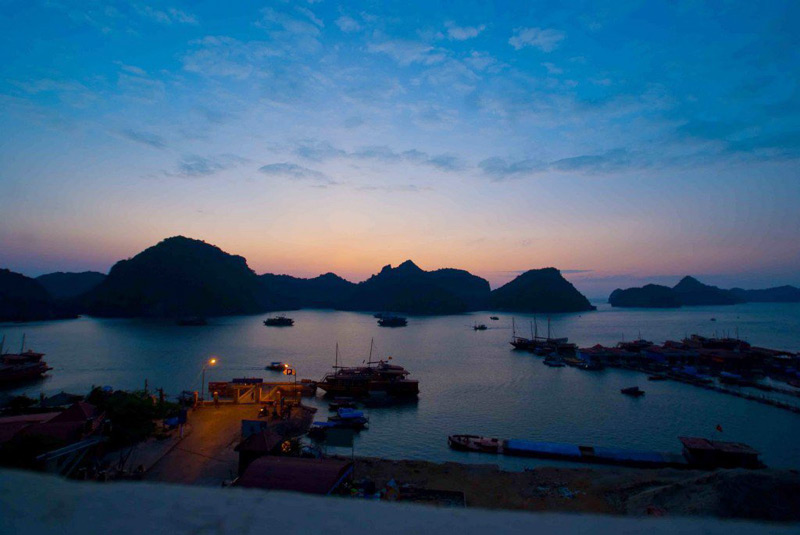 Beo Port at dawn – Photo: Catbavietnam.com

Some must-go attractions in Lan Ha Bay

Luồn Passage way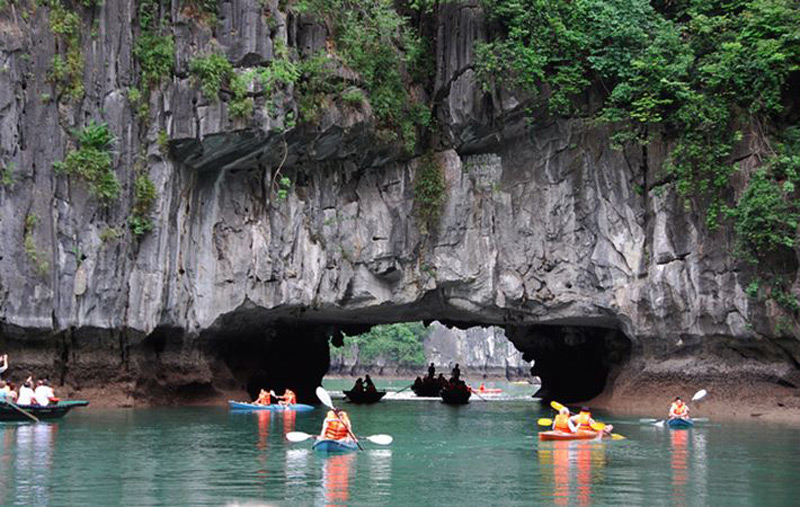 Luon passage way under the mountain range on Bo Hon island

Luồn Passage is found in Bo Hon Island, right behind the Con Rua (Turtle) Islet, left to Cong Troi (Heaven's Gate). The precipitous cliffs stand in the calm dreamy bosom of the water carrying you into recesses of feeling otherwise impenetrable. The cave surprise visitors by unique sculptures of nature with which the locals are inspired with many legend stories to associate.

Nam Cat Island
Nam Cat is meant to be for those who need the tonic of wildness. From Beo Port, it takes you 15 minutes to reach the island. People come here to explore things which are indefinitely wild, unsurveyed and unfathomed. The accommodation is restricted to just 3 stilt houses and 6 homestays made from bamboo. Outdoor activities yet vary from swimming to kayaking to scuba diving to fishing to camping at night.
.
Monkey Island (Cat Dua Island)

To reach Monkey Island, visitors usually take a boat in around 10 minutes across fishing village and several small islands. Monkey island used to be named Cat Dua (Sand – Pineapple) due to a large amount of wild pineapple trees with juicy look but inedible. Many years ago, the rangers of Cat Ba National Park brought about 20 monkeys from the archipelago to there. They gradually get familiar with visitors and usually come closer to the visitors. You can feed them with bananas, apples, kumquats, candies, etc. Overtime people called the island Monkey Island which recently became the official name for it
Van Boi beach

Van Boi Beach. Photo: Blake Beyea

This is an ideal place for kayaking and swimming because the water here is crystal clear and so calm that when you plunge your hands into it, all you feel is caress. The surrounding trees and cliffs will give you a gust of desire to immerse into nature and tell the world the glories of your journey.
Rua Islet (Turtle)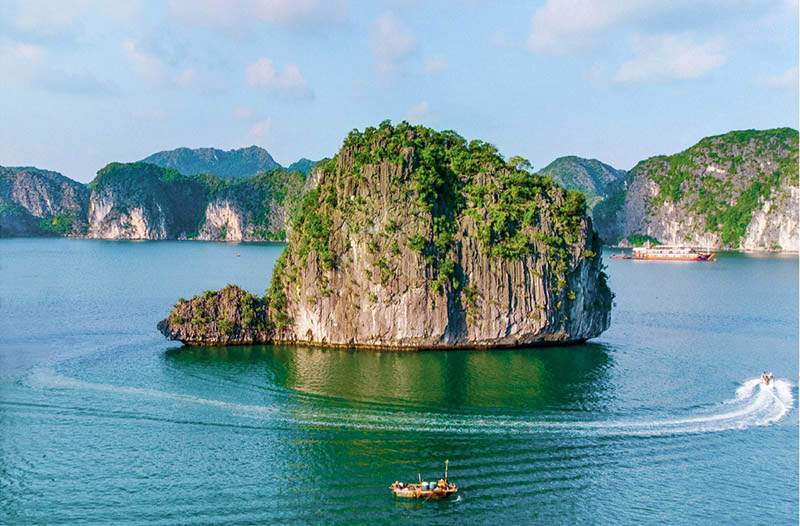 Rua Islet. Photo: Bui Hong Thang

It is a small islet situated in Lan Ha Bay with the shape of a swimming turtle. You can see it on the way from Beo port to Viet Hai village.
Chuong Islet (Bell)


Chuong Islet. Photo: Thanh Son HP

Chuong Islet is also known as But (Pen), Nen (Candle), Bap Chuoi (Banana flower spike). You can see it on the way from the town of Cat Ba to Cua Van fishing village.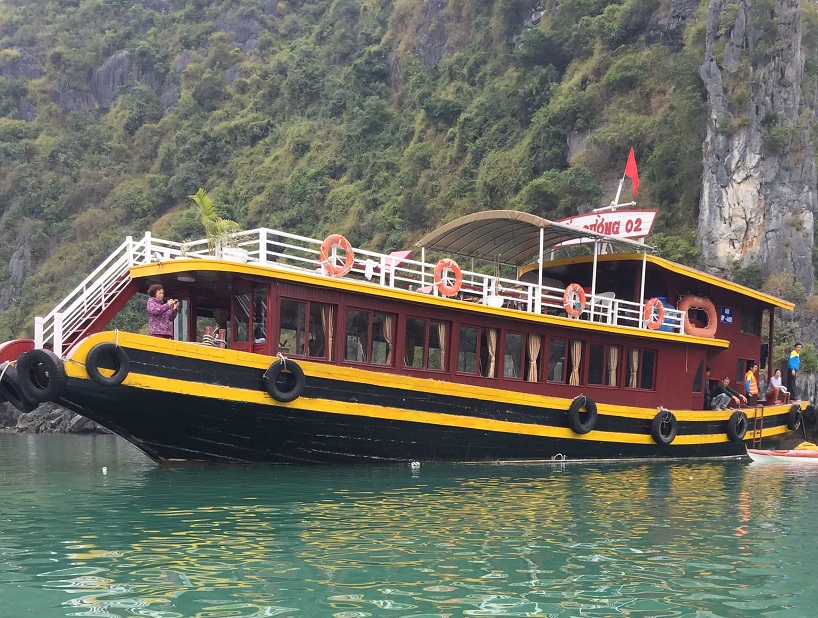 Cat Ba one day cruises tour
Event For Tour
Event description
Starts: Fri, 07/20/18 at 06:00
Ends: Fri, 12/28/18 10:59 a.m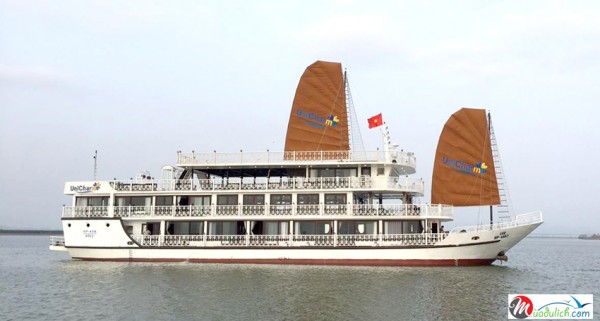 Cat Ba 2 days 1 night tour by cruise
Event For Tour
Event description
Starts: Fri, 07/20/18 at 18:00
Ends: Sat, 12/29/18 21:59 p.m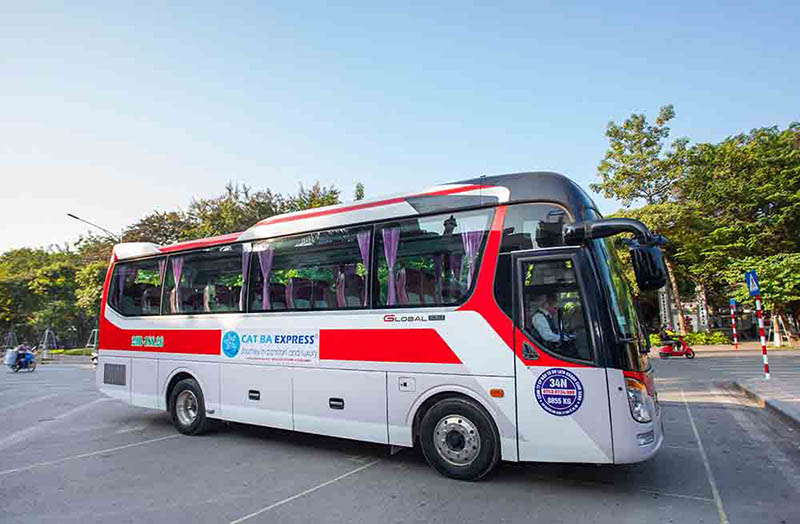 Bus Hanoi to Cat Ba island
Event For Bus
Event description
Starts: Fri, 07/20/18 at 18:00
Ends: Sun, 12/30/18 21:59 p.m