Cat Ba Island, Vietnam - an unforgettable holiday
You must have heard of Ha Long Bay. Then what is Cat Ba Island and why not Ha Long Bay but Ca Ba island? Cat Ba island is the twin sibling of Ha Long Bay. They are equally receiving the favor of Mother Nature but Ha Long bay went on a beauty contest and Cat Ba island stayed home. Ha Long Bay won the contest and were getting flocked by tourists year after year while Cat Ba Island remained raw and rugged.
Me and my friends, who are deemed as a hotpot of a bunch of weird and stubborn kind of veggies - outgoing Wandi, lazy and can't-stop-talking Salma, party animal Jenny, me – an introvert walker, trekker, modern-life escaper and photographer Linn. We were brought to Cat Ba a couple months ago and completely fell in love with it. Cat Ba has so much to offer, regardless of what kind of traveler you are: beach person, cruise person, bay person, forest person, highly active and outgoing person, lazy and chilling person, you name it.

1. Where is Cat Ba Island?
Cat Ba Island - An archipelago contains 367 islands including Cat Ba Island to the South of Ha Long Bay, belonging to sea area of Cat Hai District, Hai Phong Province's sea adjacent to Quang Ninh Province. It is 30 km away from the center of Hai Phong City and 25 km from Ha Long. Cat Ba Island is also by the local as "Pearl Island."

Cat Ba archipelago consists of 6 communes: Hiền Hào, Phù Long, Xuân Đám, Trân Châu, Gia Luận, Việt Hải. The population of the island is around 8,400 people most of whom are from Kinh ethnic.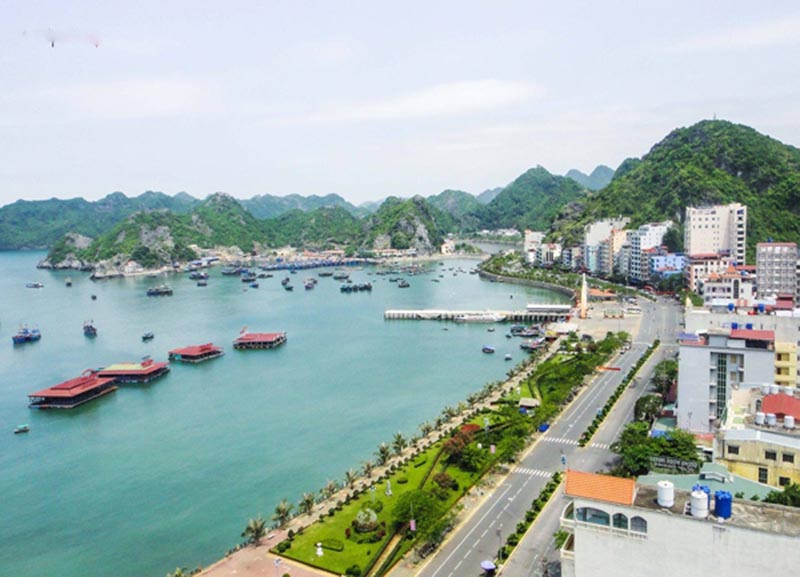 2. When is the best to go?
Cat Ba Island is indeed beautiful all year around. However, consider what is in your bucket list before looking at the calendar.
The weather from April to October is the best for indulging yourself in the nature. At that time of a year, in big cities, especially those in the North, the heat is killing everyone (the temperature jacks up to 39°C more than often) so riding a bus to Cat Ba Island and surrounding yourself with cool water, lush green trees and delectable dishes of fresh seafood feels better than anything else in this world. That's why Vietnamese people choose to visit Cat Ba Island this time of the year but not the rest.


From November to March, it was time for experiencing the essence of Vietnamese culture, traditions and customs because almost all important festivals and traditional holidays take place in those 5 months, including Lunar New Year (usually misleadingly referred to as "Chinese New Year") then a bunch of festivals celebrating spring. Well, you know how long spring is. An old Vietnamese saying that goes "Tháng giêng là tháng ăn chÆ¡i, tháng hai cờ bạc, tháng ba rượu chè" (January is for relaxing, February is for gambling, March is for drinking). Vietnamese people nowadays, however, don't do the last two thing anymore but still, they are pretty much more chilling than the rest of the year, spending more time with their families in their hometown and celebrating with their communities. What surprises many people travelling on an impulse to Vietnam in the middle of Lunar New Year (called "Tet" in Vietnamese) is that people are coming to their hometowns and leaving Hanoi an empty and downbeat secluded town. It is excited at first but you might soon get bored and discouraged because of gloomy doors and the loss in contact with local people. Better planners and experienced travelers will go to countryside areas instead. Beach lovers usually head to Cat Ba Island to experience the bustle of the preparation for Lunar New Year in coastal countryside and stay overnight in the middle of the bay.

3. How to get there?
Couple years ago, it was quite hard to get to island because there's only local ferry but recently not only tourism companies provide speedboat and other professional services but the gorvernment also built the fyling-over bridge Tan Vu - Lach Huyen to connect the mainland to the transit island Cat Hai. Therefore, getting there is far less tiring in comparison in the past.
You can get to Cat Ba Island from Hai Phong City, Ha Long, Hanoi, Ninh Binh easily. Read How to get to Cat Ba for more detail.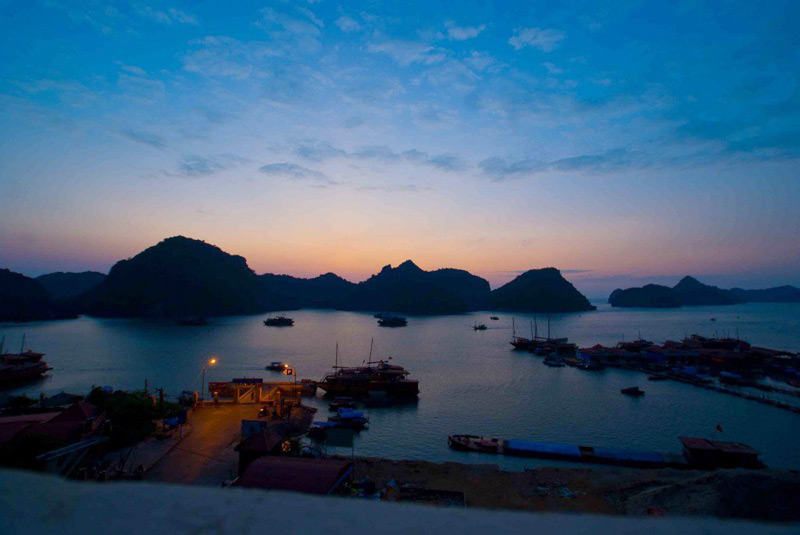 4. Where to stay in Cat Ba Island?
Hotels in Cat Ba Island in recent years are much better in quality and price, offering many choices for wide range of budgets: from backpackers to family tourists to luxurious travelers.
Note that booking for big groups would save more than individuals. And the closer to the travelling date you book your tours and hotels, the more you are charged. Especially for weekends, tours and hotels on this time will be charged 30% - 50% higher than weekdays.
Most of hotels are located near the beach (1 Thang 4 Street). Some are a bit far from the beach but you can walk to the beach or hop-on an electricity bus with just 10,000 VND/person.
Suggestions for hotels near the beach with reasonable prices and high-quality
Cat ba Island Resort & Spa – 4 stars
Address: Cat Co 1, Cat Ba Island, Cat Hai District
Price: from 50 USD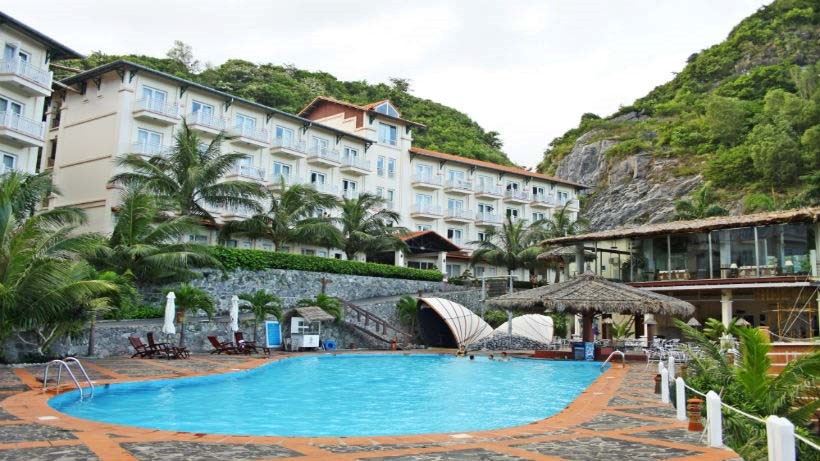 Cat Ba Island Resort & Spa is a 4-stars hotel with French inspired architecture combining with Vietnam traditions. It is a good choice for those who prioritize beautiful landscape view, high quality and pleasure services.
Monkey Island Resort – 3 stars
Address: Bãi Tắm 2, Cat Dua Island, Cat Ba archipelago
Price: from 49.5 USD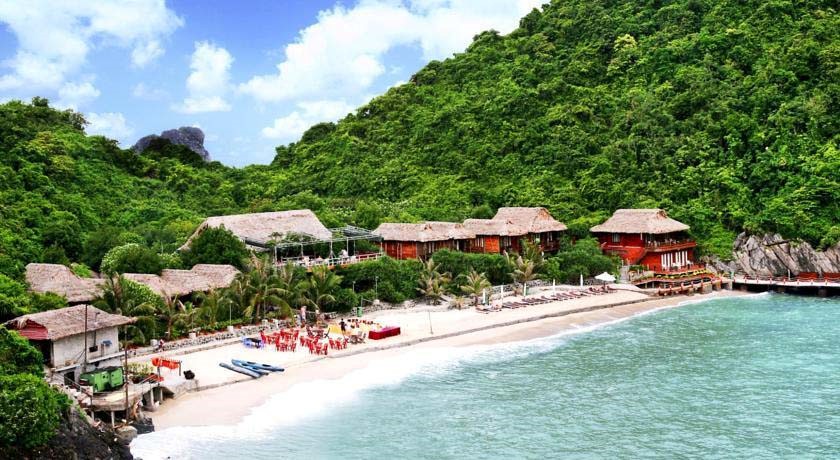 This resort is famous for good vew, delicious food and friendly staffs. It's suitable for long vacation, pleasure vacation and honeymoon vacation.

Cat Ba Sandy Beach Resort – 3 stars
Address: Nam Cat Island, Beo port, Cat Ba archipelago
Price: from 42.43 USD

This resort is special for recreation games and activities such as fishing, water sports, private bathing resorts, etc.

Hung Long Hotel – 3 stars
Address: No. 268, 1 tháng 4 Street, Cat Ba archipelago
Price: from 36.63 USD


3-star Hung Long hotel is about 10 minutes walking from Cat Co 2 and Cat Co 3 beaches, and Cat Ba port, 15 minutes from Tung Thu beach, 5 minutes by car from Cat Ba seafood traditional market.



Sea Pearl Hotel – 3 stars
Address: No. 219, 1 Thang 4 Street, Cat Ba Town, Cat Hai Island, Hai Phong City
Price: from 30 USD

Seaview Hotel – 2 stars
Address: No. 220. 1 Thang 4 Street, Cat Ba Island, Hai Phong City
Price: (weekday: from 30 USD – weekend: from 52 USD)

5. What to see in Cat Ba Island?
Cat Ba has a lot to offer.
First of all, of course, beaches
The best ones include Cat Co 1, Cat Co 2, Cat Co 3 and Tung Thu beach because they are not only beautiful but also near the town center. The one I enjoy find the most is Cat Co 2 – where the water is crystal clear and the white sand is just as comfortable as a sofa, a dramatic view in general. You can take electricity bus or motorbike taxi to get there with just 10,000 VND. If you forget your swimming suits, there's several places along the beach that you can lend swimming suits. You should go swimming before 18:30 because after then the strong tide is pretty dangerous.



Secondly, Cai Beo ancient fishing village
It was a quiet storybook hamlet, totally opposite to the hustle and bustle in the center of Cat Ba Island. There are boats available to take you around the floating fishing village and indulge yourself in the peace of the area, surrounded by lush turquoise water. If you travel in group, you can rent the whole boat to go with each other. The helmsmen with their tender boats will ferry you around the village and tell you about legends of the region and so many more other interesting stories about living on the water. You can also stay with a fisher family and see how their lives in such special condition.

And Monkey Island
Monkey Island is 1 km by a crow's flight. To get there, you can take the boat from Beo port, then go past Cai Beo village, many isles and reach the Monkey Island. It takes around 10 minutes. Monkey Island used to be called Cat Dua Island (Pineapples Island) because there were a lot of wild pineapples in the island. The fruit is not edible but local people usually used the plant as an ingredient to make tea or dry it to make medicine for diabetes. The island later was named Monkey Island when people saw a lot of monkeys coming down to the beach and playing with tourists. They eat fruits, cakes and candies given by tourists. The monkeys in the island are very friendly and love to be around people so that becomes the highlight for the island.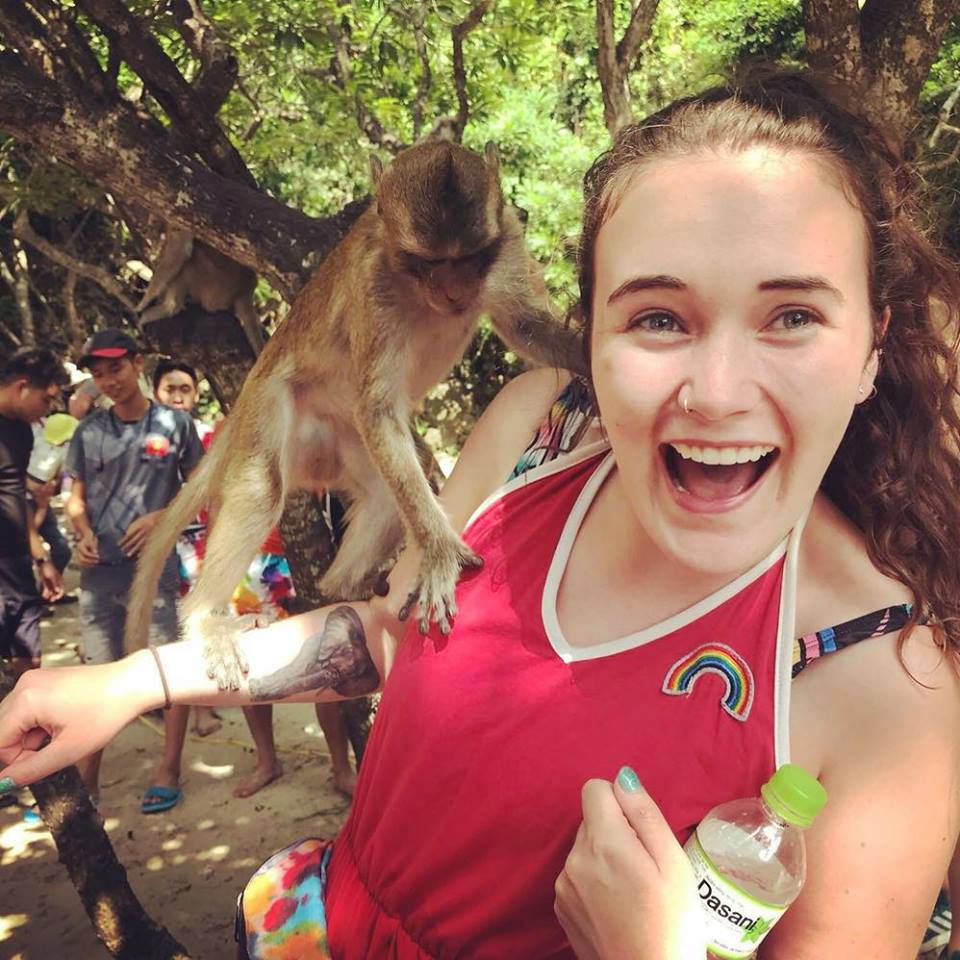 by Liv Sandwell


Lan Ha Bay on kayak
Adventurous travelers always have snorkeling at the last but never least point in their list because after being tired (and sometimes bored) of all the historical sites, open-air markets, hitting the water and surrounding yourself with those beautiful coral reefs is such a great way to relax and enjoy natural beauty. Lan Ha Bay is located in the east of Cat Ba Island, looking over Cua Van, adjacent to Ha Long Bay. It is a world of their own with over 400 isles in various shapes and sizes. Unlike Ha Long Bay, many yellow sand beaches scattered everywhere and craggy peaks raising from the water are dotted with foliage making it Lan Ha bay the one of a kind. In some quiet island such as Sen Island, Cu Island, Monkey Island, there are a lot coral reefs for you to discover.

Then National treasure: Cat Ba national park
You should not skip the national park if you are a forest person who love to get a grand sense of remoteness when the trail breaks out of the woods. Or just simply satisfy your curiousity by getting on any tiny trail you see on the way and go further into the wood. Forests in Cat Ba national park are safe in general. Me and my group once parked our motorbikes on an abandoned house on the way and went into the wood. So much fun and a lot of beautiful plants. The sunlight filtered by the leaves in thousands kinds of shape and shades of green created a fairy tale view just after 20 minutes getting down. If you are an intrepid traveler, that's completely worth a try.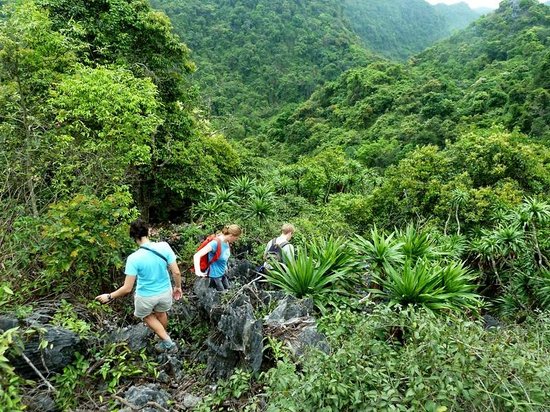 Not tired yet? Go to Trung Trang cave
Found in 1938 by Vietnamese and French archaeologists, Trung Trang soon became famous among locals audacious travelers with its 300m length through a mountain. The air inside the cave is so cool and fresh that people don't want to get out anymore once getting in.

Or Quan Y cave
The cave is employed as the healing cave in war. That'd be better if you go with a tour guide to make sense of what you see and experience.

Can't miss sunset on Canon Fort
It is 117 meters high from sea level, comprises of huge forts and matrix-like system of tunnels built in 40s. They are used in the war against French colonists and America. There're 2 special biggest forts that weighs up to dozens tons. In addition, you can enjoy the massive dramatic view of the island from the spot. Sunset in Cat Ba from the Cannon Fort is just great.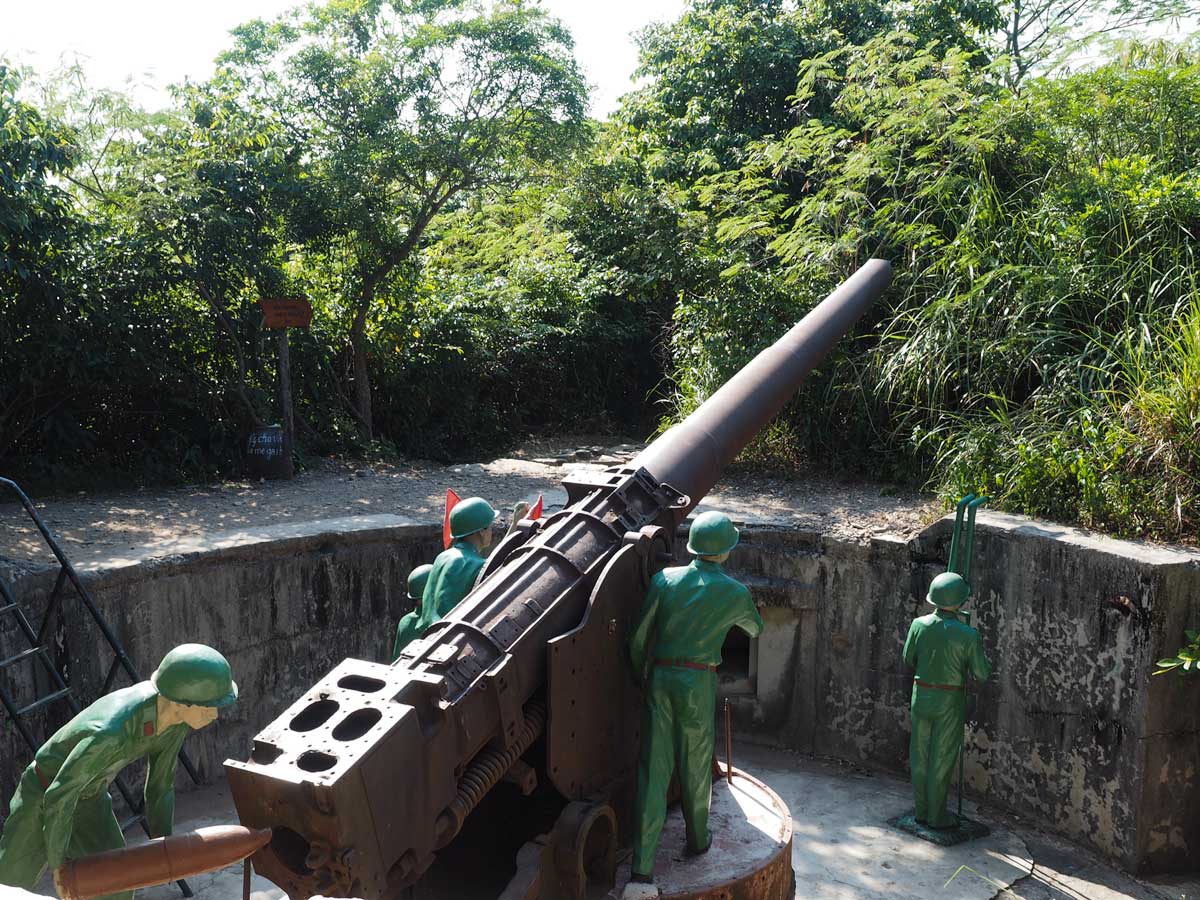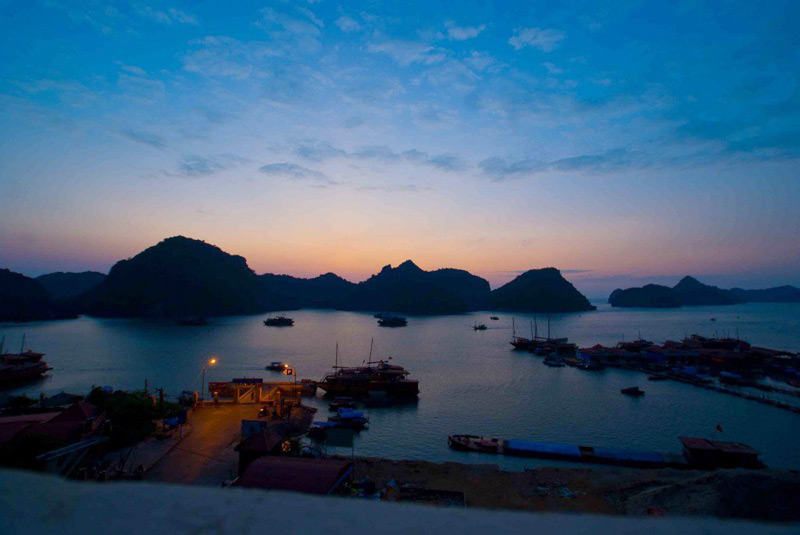 What to eat in Cat Ba Island?
Life is too short to have time for diet. If anyone lectures you about your weight, eat them too. If you are big enough, eat all the seafood in the island. That place is awesome because the perfect blending between seawater and fresh water brings about great source of fresh and delicious seafood. If you cannot eat all, or your wallet is screaming, here are my suggestions.
(There's not much a point to know exactly the jargon of the seafood because local vendors would have no idea what you want to order anyway. So save the picture with of the dishes in Vietnamese names on it and show them when you get to the restaurants.)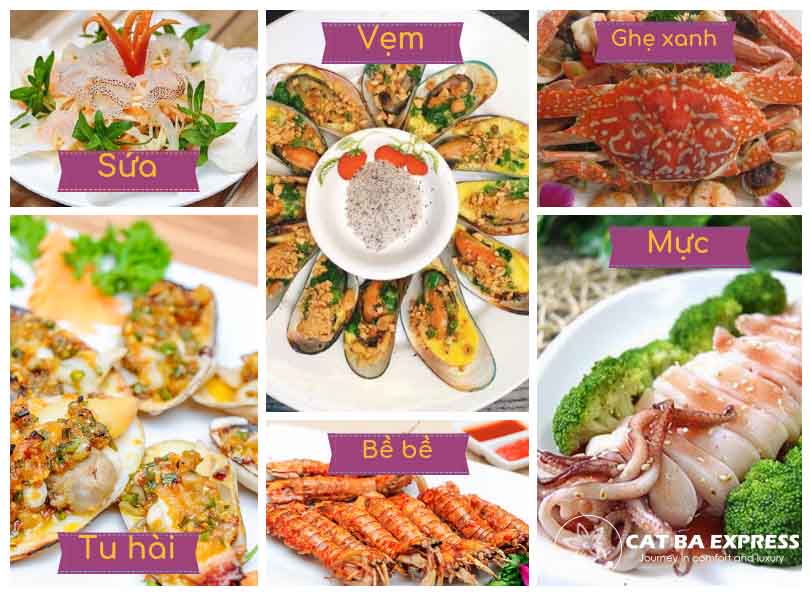 Some tips and updates
Entrance tickets in all tourist attractions now cost the same price: 40,000 VND
Bring swimming suits, common medicines – just in case, and leave your favorite leather shoes at home or you'll end up leaving them in some trash bin in Cat Ba Island, they don't get on well with seawater and sand.
Always ask for the price before eating anything. The local people are indeed very friendly and honest but those people who opened restaurants and sell you the food, God know where they're from.
Electricity bus ticket for a town tour is 10,000 VND
The price for renting a ship varies from 1 million VND to 4 million VND, in Beo ferry terminal
Nui Ngoc Street is the paradise of food and recreation activities
Pin it for the next journey!