Ho Chi Minh City, Vietnam
Ho Chi Minh City, Vietnam
Known by locals by its former name, Saigon, the largest city in Vietnam became Ho Chi Minh City in 1976 following the country's victory over the French colonial rulers (1954 – 1975).
The city is named after their independence leader and the most famous and respected personality in Vietnam, Ho Chi Minh.
You will no doubt see his photograph thousands of times during your time spent in Vietnam, hanging over schools, businesses, streets and houses.
The city itself is an extreme juxtaposition between old and new, technology and tradition, rich and poor; a hectic blur of motorbike upon motorbike which makes crossing the road an extremely daring feat!
With a booming nightlife and heaps of culture, the city is the perfect first stop on your Vietnamese adventure. It is also the ideal place to find travel buddies – as most backpackers from here will now be moving in the same direction, northward up the beautiful Vietnamese coastline and then west into Laos.
This journey is made easy by the cheap 'open bus tickets' that tour operators are keen to sell you, allowing you to travel through Vietnam stopping off wherever and whenever you like.
Things to do in Hồ Chí Minh City
Crawl along a Cu Chi Tunnel
This network of underground tunnels was home to the Viet Cong guerrillas during the 1960s.
The American's job was made difficult by this hidden operations base, which supplied guerrilla fighters across Southern Vietnam with a hideout and a supply network, leading to America's eventual withdrawal in 1972.
Visit any one of the Tour Agents in Ho Chi Minh and the Cu Chi Tunnels will be high on their list of trips to sell you! The best trips go via the multi-religious 'Cao Dai Temple', where you can watch a colourful ceremony taking place.
Float along the Mekong Delta
The second most popular tour is perhaps a trip to the mighty Mekong Delta. This can be experienced in just one day… or you can take your time with an overnight stopover in a traditional homestay.
Pack your 'nón lá', the famous cone shaped hat that is worn throughout Southeast Asia… or pick one up whilst you're there – a day on the Delta can be a sunny one with little opportunity to seek shade! As you boat along the river, you'll visit traditional river villages, sample coconut candy, watch rice paper being made and island hop between the magical named island's of Tortoise, Phoenix, Dragon and Unicorn!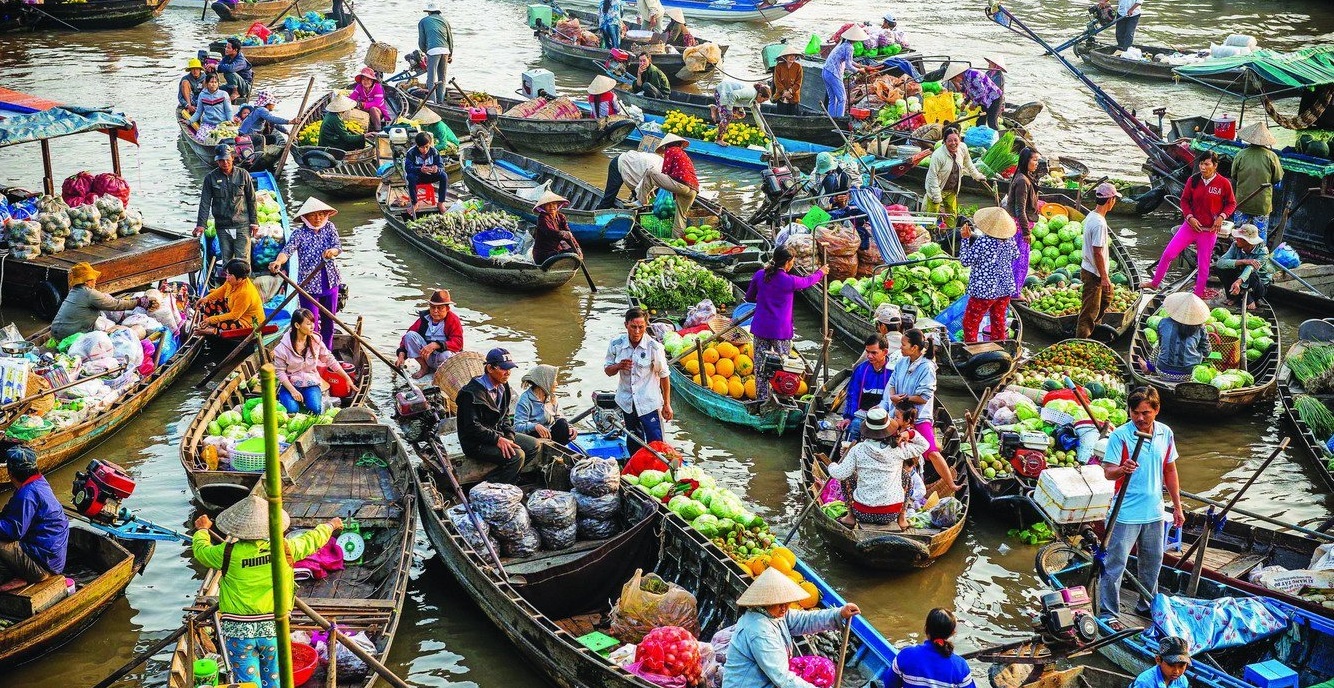 Reunification Palace
Previously known as Independence Palace, the 'American War' (as it is called in Vietnam) is said to have ended as a tank crashed through its gates. A replica of that tank, number 843, can now we seen on the palace's lawns.
Tours can be arranged, but it's easier just to wander and browse this 1960s time-warp at your own pace. The entry cost is 30,000 Vietnamese Dong.
War Remnants Museum:
Pack your tissues if you're visiting this Museum, which is home to devastating images of the American-Vietnamese war, taken by famous international photographers.
A day here is an uncomfortable one and certain photos of innocent victims of war cannot fail to move you to tears. Perhaps the most shocking photos are those which portray the damage done by the American Weapon of War, the chemical known as 'Agent Orange'.
It is a must visit in Vietnam if you want to find out more about one of the most significant events of the twentieth century and see the story from the Vietnamese point of view. The museum is closed for lunch 12pm-1:30 pm and last entry is 4:30 pm.
Entry costs 15,000 Vietnamese Dong and it's an easily walkable distance from Pham Ngu Lao (the backpacker hotel hub).
Chinese Temples in Cholon:
Here in Vietnam's largest Chinatown, there are dozens of colourful Chinese Temples to be visited. Wander around, soak up the distinctive atmosphere and sample the delicious Chinese inspired street food.
Jade Emporer Pagoda:
Arguably one of the city's most beautiful pieces of architecture, this Pagoda, locally known as 'Phuoc Hai', is definitely worth a look, for the intricate paintwork and clever detail.
Built by the Cantonese in the 20th Century, the air is heavy with incense and the grounds are alive with worshippers.
Traditional Vietnamese Massage:
Soothe those aching limbs after all that exploring of Ho Cho Minh City with a relaxing massage, performed by a professional blind masseur…
Ride on a Xe Om:
Struggling to cross the road in Ho Chi Minh City? Well, if you can't beat 'em, join 'em! Hop on a 'xe om' (a motorbike to you and me) and whizz through the streets with the locals. The name translates roughly as 'hugging machine' and that's certainly apt as you cling on to your driver for dear life, weaving through traffic, bicycles and pedestrians.
The best area to stay in Ho Chi Minh City?
Pham Ngu Lao: The Backpacker Ghetto
This district is Ho Chi Minh City's busiest backpacker hub, with bars that stay open as long as you're standing and hostels aplenty.
The further you wander away from the main crossroads, (marked by the looming fluorescent sign of Crazy Buffalo Bar & Nightclub), the cheaper the room. Saigon Backpackers Hostel @ Pham Ngu Lao is a good social choice. Or try Eco Backpackers if you want to party.
Co Giang: For the Mature Traveller
Southeast from Pham Ngu Lao a sleepy alley of guesthouses lie tucked away, undisturbed by the partying backpackers. Head here if your budget is a little higher (approximately $10-$20 USD a night) and peace is what you are seeking.
Ben Thanh Market: Flashpacker District!
An even pricier option for the flashpackers amongst us, most rooms here are $25-30 USD but come with all conveniences such as air-con, satellite TV, hot shower and free WIFI.
How to get to Ho Chi Minh City?
If you're travelling to Vietnam then remember that unlike most other Southeast Asian countries, you will need to arrange a visa before you arrive. See our Visa Guide to South East Asia for more information about the Vietnam visa.
By Plane: Cheap flights can be found via AirAsia and other budget Asian airlines from neighbouring countries in Southeast Asia.
The airport, Tan Son Nhat, is Vietnam's largest and has a regular bus service (the No. 152) which will drop you to Pham Ngu Lao or at the bus station close to Ben Thanh Market for a mere 4,000 Dong. Expect to pay another 4,000 VND for a seat for your bag!
By Train: If you are already exploring Vietnam, then an 'express' train can be caught from Hanoi, with five departures daily.
Though this calls itself an 'express' service, it takes a minimum of 30 hours, so be sure to pick up a good read! (Or better, still stop at various places along the way!)
Where to go next?
Phnom Penh: If your Vietnamese adventure has run its course, then Cambodia's capital is just a 6-hour bus ride away. This will set you back around 250,000 Dong.
Mui Ne: If you're craving a beach on which to lounge having survived the traffic of Ho Chi Minh, then Mui Ne is the next logical step.
Grab yourself a bus ticket which allows you to hop-on and hop-off wherever and whenever then travel the approx. 5 hours North to Mui Ne. (The bus ticket when we last checked cost $30 USD from north to south/south to north).
Dalat: Located in the mountains and dubbed by the French as the 'Alps of Vietnam', this peaceful town is the ideal location to test out an Easy Rider tour or rent yourself a bicycle and explore the nearby hills and waterfalls.
It's the perfect city break to escape the fumes of the city.
And anywhere: Nha Trang, Danang - Hoi An - Hue, Hanoi, Halong - Lan Ha Bay, Cat Ba Island, Sapa.
Read more →