Cat Ba Island - A pearl island in Hai Phong city
Cat Ba Island is situated about 50 km East of Hai Phong city in the North of Vietnam. Cat Ba Island is part of a chain of 366 islands that lie within the larger area of Halong Bay.
At over 200km2, Cat Ba Island is the largest island in Halong Bay. The island is easily accessible and matches neighbouring Halong Bay and Bai Tu Long Bay for stunning natural beauty.
It also offers visitors the added options of relaxation, adventure and cultural exchange. In April 2005, Cat Ba was officially recognized as Cat Ba Archipelago Biosphere Reserve by UNESCO.
Cat Ba is known for its rugged limestone mountains, hot and cold springs, moist tropical forests, mangrove forest, coral reefs as well as its deserted beaches, and casual island lifestyle.
Cat Ba is now much sought after by both domestic and international visitors as a ready alternative to the city madness and bus tour boredom.
Cat Ba Express is the only locally operated tour agency. It provides a unique insight into the island and its people.
Cat Ba National Park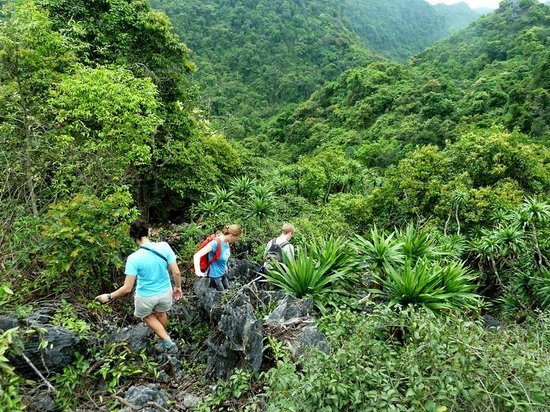 Cat Ba National Park is located 15km northwest of Cat Ba Town. It was established in 1986. It spans an area of 15,200ha, of which 9,800ha are forest, and contains lots of particularly interesting caves.
The original tropical forest spans an area of 570ha, with extremely varied wildlife and vegetation.
Cat Ba National Park is situated in Cat Ba Island and on several smaller islands nearby. The park currently comprises 98km2 of total land are 54km2 of inshore waters.
The National Park was Vietnam's first national park to include both terrestrial and marine ecosystems.
It is recognized nationally and internationally for its importance in biodiversity conservation, as it contains many different types of ecosystem and habitat. The Park has a great variety of plant and animal species.
The golden–headed langur or Cat Ba langur is a rare and a precious animal and exists only in Cat Ba island. A special type of tree called "Cay Kim Giao" is unique to Cat Ba.
In ancient times, kings and nobles would eat only with chopsticks made from this timber, as the light colored wood was reputed to turn to black when it touched anything poisonous.
There are 745 species of plants recorded on Cat Ba, including 118 timber species and 160 plants with medicinal value.
The national park is home to 32 types of mammals and more than 70 species of birds have been sighted. There is a beautiful lake inside the national park called Frog Lake, with a water forest and amazing landscape.
Lan Ha Bay
Lan Ha Bay is located in the Southeast of Cat Ba Island, looking out of Van sea mouth, connecting with Ha Long Bay. Its area is 7000ha, of which 5400ha are managed by Cat Ba National Park.
Its sceneries are not as beautiful as Ha Long Bay's, but original characteristics. The limestone mountain density is here crowded, neglected and devised sea face into little bays, gulfs of which many little bays, gulfs, and caves are still not discovered yet.
Hundreds of mountains of diversified shapes as Guoc islet (Clog Islet), Roi Mountain (like a bat with widely opened wings).
Difference from Ha Long Bay, Lan Ha Bay consist of 139 small and clean sand banks of which lots of them lying in the middle of 2 mountains are sloping, long and quiet without rough waves, they are actually beautiful bathing beaches.
In the very clear and green water remains colorful coral fields such as Van Boi, Van Ha coral fields. they are good conditions for developing undersea tourism (like diving tourism).
Using a small boat, you can cruise in mountain creeks on the sea visit the bay, lagoon, caves, or resting on bathing beaches in the sea as Vem golf, Tung Gau cave, Cat Dua beach.
Lan Ha Bay is a lovely place for kayaking, snorkeling, swimming and rock climbing.
Booking tour: Lan Ha Bay one day
Cat Ba Island in the past
Archaeological evidence indicates that people have lived on Cat Ba for at least 6000 years. Vestiges of an early settlement called Cai Beo are located about 2km from Cat Ba Town.
These were unearthed in 1972, 1973, 1981 and 1983 by two French scientists. Hundreds of tools were found, such as pestles, grinding plates, wedging pieces, net leads and hatchets.
Many were made from pebbles, or were rudimentary ceramic works made of clay and sand. Human remains were also found, along with evidence of their habitation.
The Cai Beo settlement belonged to the ancient Ha Long culture that existed 6473-4200 years ago.
These were perhaps the first people to occupy the north-eastern territorial waters of Vietnam that knew how to exploit the sea and to cultivate.* Folk tale of the Women's Island
Cat Ba Island means 'Women's Island'. Legend tells that three women of the Tran Dynasty died and each drifted to a sandy beach on the island. Afterwards, the inhabitants built temples on each of the beaches and the island became called Cat Ba Island (Women's Island) and the temples called Women's Temples.
Opposite Cat Ba Town is small Cat Ong Island (Men's Island) which was once a secret place for soldiers to hide weapons.* French Colonial Period.
The French had a presence on Cat Ba from 1947 till 1955, as it was a strategic coastal island. Cat Ba was important to the French, but the local people fought strongly to keep the island theirs.
During this time, the local people often fled to the valleys, the forest, or even the caves, fearing the French. There is now a monument to local people killed by the French on Cat Hai Island.* US War.
During the American War in Vietnam, Cat Ba (next door to Hai Phong, one of Vietnam's largest port cities) figures prominently in the history books.
During US bombing raids in the north, Cat Ba was targeted and bomb craters can still be seen in various place across the island.
One of the key reminders of the war and its struggles for local communities is the 'Hospital Cave', which was turned into a key shelter in 1965 for those wounded in the war.* Today
* Cat Ba Town (11.984), six villages (6.048) on boats and floating villages (890), and on Cat Hai Island (11.649).Two general groups of people of people live on Cat Ba Island.
The ethnic Vietnamese, on Kinh people, moved to Cat Ba after 1979. The second group are the Viet-Chinese, who are descended from fishing communities that have existed on Cat Ba for many generations.
Fisherman and farmers live in Tran Chau (the oldest and largest village on the island); in Gia Luan farmers, fisherman and some hunters; in Phu Long fisherman and salt farmers; in Xuan Dam farmers.
In the smallest village, Viet Hai, 200 people live in simple, houses made of bamboo, wood, leaves and earthen walls. It is a fishing and farming village, where the people are sincere, simple minded and very hospitable.
Annual events and big days:
On 1 April annually, the Cat Ba people organize a traditional festival to celebrate the day when uncle Ho Chi Minh came to visit the Cat Ba fishing village in 1959.
This is also the day that Vietnam's sea produce industry traditionally starts and the Cat Ba tourist season begins. At the festival visitors will enjoy an imperial boat race on the sea, water skiing and coracle boat races on the sea.
What to do in Cat Ba Island?
Hiking in the National Park
Kayaking
Community home-stays.
Fishing
Cycling
Cave exploration
Finest sea food in the north
Beaches and swimming
Cultural discovery
Motorbike tours (guided and independent)
Ha Long Bay tour
Rock climbing tours.
Scuba diving, snorkeling
Enjoy your trip!